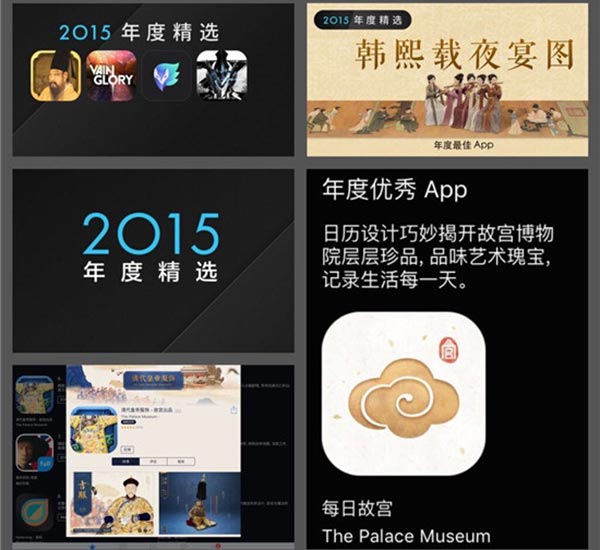 Editor's pick of the Apple AppStore include The Palace Museum, Han Xizai's Night Feast and The Qing Emperor's Wardrobe. [File photo]
Three apps from the Palace Museum were listed by Apple's AppStore as the most imaginative, creative and attractive apps in China, with one of them being named the best app of the year.
The three apps are Han Xizai's Night Feast, The Palace Museum and The Qing Emperor's Wardrobe. All of them aim to provide an informative and entertaining channel for people to understand ancient Chinese culture.
The review for the app by the Apple's AppStore said the calendar design of The Palace Museum app is intuitive, as it provides users with new information about the treasures in the museum every day. The "share" function of the app makes it social.
The Qing Emperor's Wardrobe was chosen for its delicate three-dimensional modeling and its high-definition pictures, so users can appreciate the details of the gorgeous clothes.
The highest praise went to the app Han Xizai's Night Feast. It tops all other apps on the iPad because "it has combined academic, artistic and technological value together, illustrating a night feast with fancy visual and audio presentation".
The night feast app has a new appreciation mode which directs users in three ways to fully explore the scroll painting, which is about the eunuch Han's mansion. Users can get an overview of the mansion, they can travel through the mansion to appreciate the people and the clothes within it by touching the screen - a candle is lit up wherever they go as if they were really a visitor in the mansion.
But that's not all the app has to offer. "The Han Xizai's Night Feast is a rather academic app, though it was presented in an entertaining way. There are over 100 annotations, 18 expert guidance audios and one postscript conveyed in the app," said Yu Zhuang, who is in charge of the app's research and development team.
"The app has many academic surprises. It is a compilation of the fruits of research presented in an avant-garde way. But you have to find it out for yourself," Yu said.
Related:
Palace Museum calendar for 2016 shines among art books