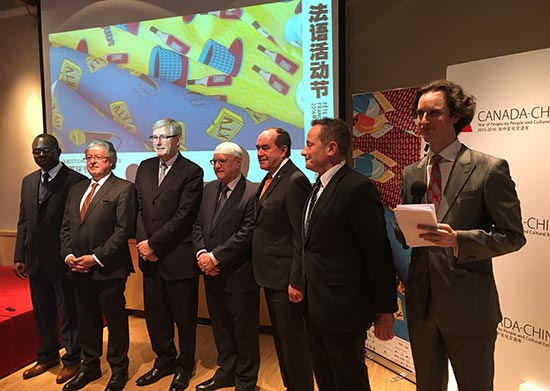 Ambassadors in China French speaking countries attend the press conference held at the Canadian Embassy on Tuesday. [Photo/takungpao.com]
The 21st French Cultures Festival, which begins on March 10 this year, will present a series of activities in over 200 Chinese cities.
As introduced by Robert Lacombe, cultural counselor at the French Embassy in China, over 20 movies will be screening along with over 30 concerts and a dozen exhibitions and lectures to charm the Chinese participants looking to get a taste of French culture.
According to Lacombe, the festival aims to be interactive among its Chinese participants with several competitions allowing enthusiast to get more involved in French culture.
"In addition to the singing and poetry translation competition, we've for the first time introduced The Pivot Dictation competition – the prize of which is a magnificent trip for two to Switzerland and France as well as incredible visits to the most beautiful places in Francophone history and culture," said Lacombe.
The first round of The Pivot Dictation starts this Tuesday and proceeds until March 1st, when the 29 best players of the WeChat game will be chosen for the final competition which takes place at the Swiss Residence in Beijing on March 20.
French ambassador to China Guy St-Jacques said, "French is a language that connects over 80 countries around the world, it communicates the essence of the French culture though its precision and elegance. Around the world, there are about 300 million people speaking French, and a million teachers teaching the language. Mastering French makes you more competitive."
The Mars en Folie event will be held from March 10 to 25. An array of music from indie pop, punk and jazz will be played in 14 Chinese cities. Over 100 classic French songs will be available in 3,500 KTVs around the nation since March.
The 20 movies and two short films being played during the festival include some non-French ones, which were chosen to embody the variety and creativity that's typical in French movies. Timbuktu, a prize winner at the 2014 Cannes Film Festival, will be played at the festival.
Chinese singer Shang Wenjie is the ambassador of the Francophonie Festival.
Related:
French pianist to charm Beijing with recital
French afternoon tea pays tribute to local ingredients and flavors