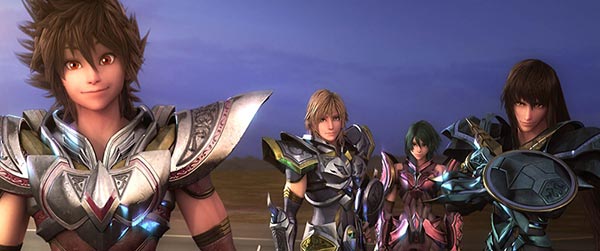 A scene from Legend of Sanctuary. [Photo provided to China Daily]
Japan's influential animated hero "Saint Seiya" will meet Chinese fans on the big screen for the first time since the character's debut three decades ago.
Legend of Sanctuary, a 93-minute CG animated feature adapted from the Japanese manga Saint Seiya, will open in mainland theaters on Feb 26.
Set against a backdrop in present-day Japan, the tale revolves around a young group of warriors called "Saints", who fight for their holy mission to protect a young girl. She is the modern reincarnation of the goddess Athena from the Age of Myth.
Although the movie was released in Japan in 2014, many Chinese fans say they are eager to watch their childhood idols on big screen.
"I've grown up with Saint Seiya and his fellow warriors. It was one of my childhood years' biggest pleasures to watch the TV series," says Huang Ranqing, a Shaanxi-based fan.
"I've heard this movie for a long time and known it has been available on some online sites, but I will go to cinemas for the nostalgia," he says.
The movie is the sixth of the cinematic franchise inspired from the Japanese manga Saint Seiya, or Saint Seiya: Knights of the Zodiac.
One year after the books initially were published in 1985, the namesake animated TV series was released in Japan and later aired in more than 80 countries.
China introduced the TV series in 1992 and it soon became hugely popular among children and teenagers.
Related:
1st Berlin Chinese Film Festival kicks off
Britain to expand scope of cooperation with China's film market