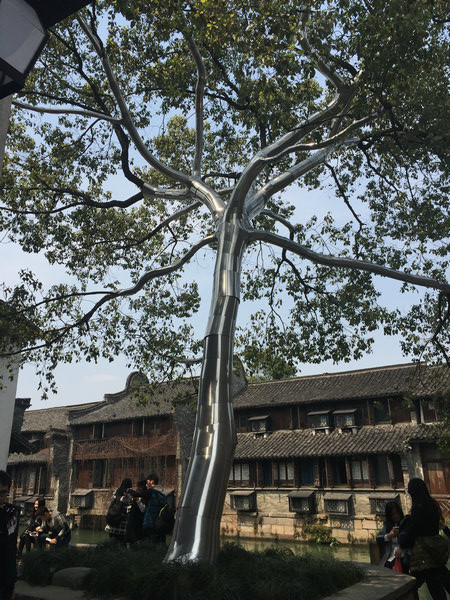 A tree covered in metal sheets in Wuzhen, Zhejiang province, is an art installation titled Armour by Finnish artist Antti Laitinen.[Photo by Deng Zhangyu/ China Daily]
Near the riverside a tree wrapped in metal sheets catches the attention of almost every passer-by. Most of them ask the same question: What's wrong with the tree?
The tree covered in metal sheets is part of an art installation titled Armour by Finnish artist Antti Laitinen. He is one of the 40 artists from across the world taking part in the contemporary art show being held in the ancient water town of Wuzhen in East China's Zhejiang province.
A mother tells her son that Laitinen's armored tree is sick urging him to stay away from it. A middle-aged man looks at it for a while and tells his friends that the tree has been covered to protect it from cold.
For local residents and tourists from other parts of China and abroad visiting Wuzhen - among the country's most popular destinations - this kind of art is a new experience.
"I can't understand most of the works. But I think they are cool. At least, I have a chance to see works by some of the best artists in the world," says Chen Xianghong, president of Culture Wuzhen Company, the show's organizer.
Wuzhen got its first art museum last year after the Mu Xin art museum opened in November.
Chen, who grew up in the old town, admits he knows little about art.
But he says the art show that his company has organized is a good way for locals and ordinary Chinese to widen their knowledge.
Dutch sculptor and architect John Kormeling has designed a moveable manhole cover.
Many tourists are amused by it.
A woman urges her friends to dance on it and children play with it.
The artist says he wants his work to show people that life has many possibilities and one can choose any direction they wish to follow. He's glad that people love his work though many visitors just look at it as a tool or a game.
Art installations placed in the water town area of Wuzhen have attracted plenty of visitors who are curious and take photos.
Florentijn Hofman, who is known in China for his yellow duck installation, is the most well-known artist at the show. His new work - a pink fish for the water town - is attracting a lot of attention.
Meanwhile, to see the works of big names like Bill Viola, Damien Hirst, Marina Abramovic, Sui Jianguo and Song Dong, which are placed in a silk factory, you need a ticket. The ticket costs 25 yuan ($3.8), less than the price of a movie ticket.
"I will buy a ticket for the show tomorrow. I'm very curious," says Shen Yiting, 25, a local woman working in a hotel.
She says all her friends have posted details of the show on social networks, and many of them have never been to an art museum before. They feel really excited and want to see the art.
"Three years ago when my hometown held its first theater festival, I knew nothing about theater. Now I watch dramas every year. I think it will be the same with art," says Shen.
Feng Boyi, the curator of the contemporary art show, says he hopes the event will boost knowledge of art among locals and tourists.
"The Chinese in small towns have little chance to see fine art. This show gives them a chance to do so and if the show is held in the future, it will help the next generation cultivate an interest in art," says Feng.
For many years now, the locals have only worked in tourism industry, the major employment generator in Wuzhen. The art show now gives their children the possibility of becoming artists, says Chen.