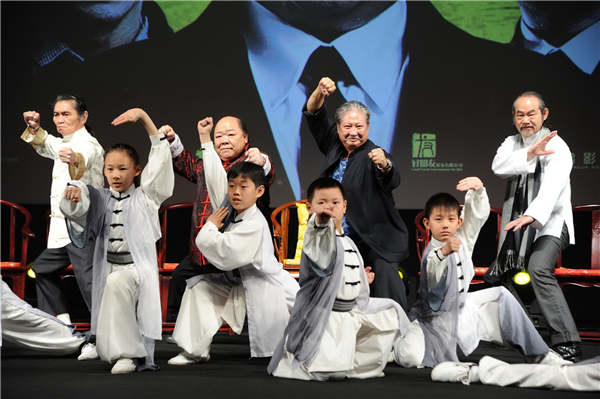 Hong Kong kung fu film icon Sammo Hung (back row, second from right) with young martial arts performers and actors at the premiere ceremony of the action thriller, My Beloved Bodyguard. Provided to China Daily
Newbie scriptwriter Jiang Jun says he is "a lucky dog".
The 36-year-old former ad designer wrote a tale about a retired secret agent in 2012 but failed to persuade any film studios to look at it.
Some friends then suggested that he take part in a contest called "Project Pitches" at the 2013 Beijing International Film Festival.
To his surprise, he won the contest and attracted the attention of Bill Kong, founder of Hong Kong-based Edko Films.
The contest, a key part of the annual film festival, selects 10 finalists and provides them with financial support, before choosing a winner.
Besides this, being picked as a finalist for the contest brings the contestants and their "high-quality" tales to the attention of industry veterans.
Kong, one of the most influential Chinese-language filmmakers, has produced blockbusters directed by masters Ang Lee and Zhang Yimou.
His firm's animated movie Monster Hunt, released last year, is currently the second highest-grossing film of all time in China, the world's second-largest movie market.
Kong financed Jiang's movie idea and introduced him to Hong Kong kung fu-film icon Sammo Hung.
As of now the action thriller, My Beloved Bodyguard, written by Jiang and directed by Hung, who also stars in it, has raked in more than 225 million yuan ($34 million).
Speaking of his personal struggles at a recent event about the forthcoming 2016 Beijing International Film Festival, Jiang says: "I was a nobody and did not know any industry insiders back then.