The Chinese mainland has its own Spielbergs — Zhang Yimou, Chen Kaige, Feng Xiaogang—who have made the country's highest-grossing commercial films for decades. Some of their movies also are well known internationally, like Zhang Yimou's Hero and Chen Kaige's Farewell My Concubine.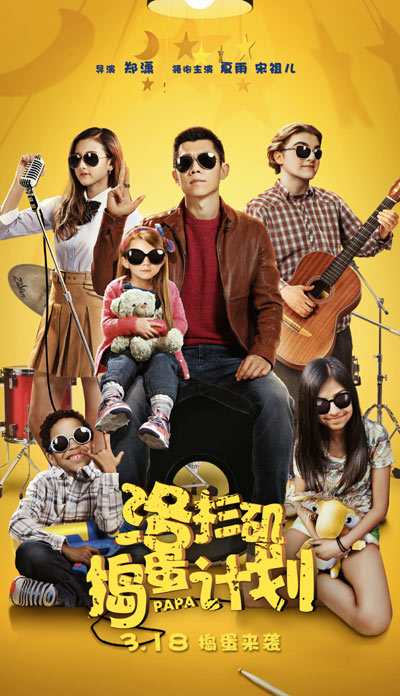 "Our film industry still relies on these directors born in the 50s. It lacks new talents," said Zheng Xiao, a Chinese director.
With a growing middle class and movie theaters sprouting up in every city in China, investors are pouring big money into Hollywood to make US-China collaborative films.
As China emphasizes soft power internationally, the film industry is looking for the next generation of directors who can take Chinese movies beyond China.
"It's an opportunity for us," said Zheng, 33, a 2013 graduate of the film school at the University of Southern California, which has one of the most prestigious film institutes in the world. Her second feature film, PAPA, is now screening across China and in 20 US theaters.
The movie is backed by Chinese money and features a Chinese star. It was filmed in California and directed by Zheng and a Hollywood team.
"It's a real experiment with US-China collaboration," she said. "The genre is new for Chinese. PAPA is a family comedy for parents and their children to watch together, like Little Miss Sunshine."
Most Chinese parents bring their children to see only animated films.
"Though it's called a comedy, PAPA is not like what Chinese moviegoers are used to - comedy that's there just to make people laugh. I hope my films make people feel," she said.
PAPA tells a story of a Chinese talent manager traveling to Los Angeles to look for his star singer, who took off with another man. Unexpectedly, his search gains him an arranged marriage for citizenship, five adopted children and an angry boss demanding his money back. He had to make a choice between being a good father or a good talent manager.
Zheng, who filmed the movie in the US, said she appreciates Hollywood for its long-established system. In China, a film crew often works day and night with no hourly limitations. But Zheng followed Hollywood union rules of shooting no more than 12 hours a day, six days a week.
"By adhering to the rules, I hope to show the Chinese who're involved what a mature system is like," she said. "Hopefully, I can make some difference."
"Unlike some directors and producers who told their Chinese actors to work with tourist visas out of convenience, we worked very hard to get our two main actors work visas," she said. All the smaller roles in her movies were played by American citizens.
"Only by following each other's rules can US-China collaborations in films be sustainable," Zheng said.
She remembered that when she arrived at USC in 2008, there were no other Chinese students in the film program, but when she graduated in 2013, there were at least a dozen.
Zheng said there is demand for young directors, but breaking into the market is never easy.
"It was very hard for me to get a top actor. I'm a new director, and my producer Michael Peyser, who had produced several Woody Allen films, was also an unfamiliar name to the Chinese," she said. It took months for her to finally get Xia Yu, a top Chinese actor.
While PAPA is currently screening in many theaters in China, the show times were not the best. The Revenant, which gained Leonardo Di Caprio his first Oscar, and Zootopia, a Disney animated film that soared at the Chinese book office, are taking all the best show times.
Zheng was not discouraged. PAPA gets her foot in the door, and she's already preparing for her next feature.
A growing number of Chinese movies being filmed in the US - Finding Mr. Right (2013) in Seattle; Hollywood Adventures (2015) and PAPA (2016) in Los Angeles; New York, New York (2016) in New York - demonstrates that consumers have an appetite for stories set in America.
Also, the films are often shown in a handful of US cinemas in cities that have large Chinese population or are near universities with many Chinese students.
The question remains how to get Americans to watch Chinese films.
Next year, another US-China effort directed by Zhang Yimou will be released. The Great Wall, which features a cast led by Matt Damon and Chinese actor Andy Lau, could be China's first international blockbuster, CBS News said.
Related:
Domestic kung fu flick beats Batman v Superman