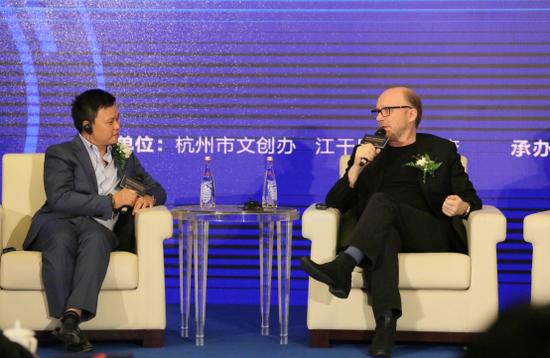 Academy Award-winning director Paul Haggis speaks at a press conference in Hangzhou, China and announces the partnership of Film Carnival, Citic Guoan and Dick Cook Studios, on March 27, 2016. [Photo/China.org.cn]
It was announced in Hangzhou on Sunday that Film Carnival and Dick Cook Studios will collaborate on a Hollywood blockbuster named
Rangers Apprentice
, marking the first time Hollywood has worked solely with Chinese investors.
Rangers Apprentice, the first film project to be produced under the new creative and financial partnership, will be an adaptation of Australian author John Flanagan's New York Times best-selling book series. It will be written and directed by Academy Award-winning director Paul Haggis (Crash).
The book series follows an orphan who becomes the apprentice of a man named Ranger as they battle to keep the fantastical kingdom of Araluen safe from a multitude of threats. The series consists of 12 volumes and has sold more than 8 million copies worldwide.
The film, with a budget of $120 million, will be fully funded by China's Film Carnival and its sister company Huafeng Investment Consultation, Co. Ltd, and will be produced by Dick Cook Studios, a production company founded by a former chairman of Walt Disney Studios, and its Beijing branch. This will be the first time a Hollywood movie has been fully funded via Chinese investment.
Cook was the chairman of Walt Disney Studios from 2002 to 2009, overseeing the release of blockbusters such as Pirates of the Caribbean, National Treasure and Finding Nemo. After stepping down from the position in 2009, Cook joined the board of directors of Legendary Pictures in 2011. In 2015, Cook launched Dick Cook Studios with a $150 million investment from Citic Guoan Group Co. Ltd., a division of the state-owned Chinese conglomerate Citic Group. The new company, based in Los Angeles, is focused on creating family-oriented movies, TV shows and entertainment.
Citic Guoan will also help the Rangers Apprentice project, which has been discussed since 2008.
Paul Haggis said in Hangzhou on Sunday that he was "very excited" to put this book on the big screen as this was a bedtime story he wrote for his son, while Cook believes the film will introduce a fabulous world to audiences.
Production on the movie is set to begin in the fall of 2016.
Film Carnival, Huafeng and Dick Cook Studios also have established a strategic partnership for full cooperation. Film Carnival will invest at least 2.5 billion yuan ($386.75 million) into Dick Cook Studios to produce several films in the next three years, to explore the efficiency of the model of Chinese money plus Hollywood production teams and resources. They will also collaborate in exploring scripts, worldwide distribution, marketing, merchandise, theme parks and entertainment centers.
Related:
Batman v Superman rules China's box office