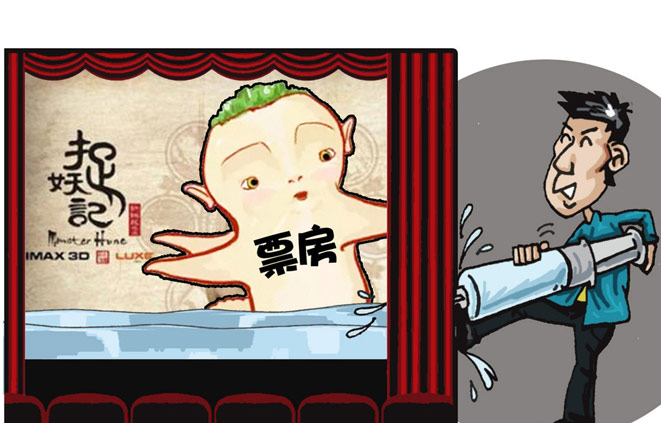 Monster Hunt is suspected of cheating in box office figures. [Photo/IC]
The Chinese live-action animation feature, Monster Hunt amazed the global film market by raking in over 2.4 billion yuan ($370.56 million) last year.
The Chinese box office champion of all the time tells an epic adventure between a young man and a monster.
However, rumor has it that the movie is suspected of cheating in reporting box office figures. And recent investigations seem to prove that there is no smoke without fire.
According to China's state-level broadcaster, China Central Television (CCTV), the movie became the highest-grossing film in China by artificially boosting its ticket sales.
The movie took in 171 million yuan on the first day of screening, 300 million by day two, and 500 million by day three, setting the opening-day and single-day records of a domestic film.
Furthermore, it only took eight days to become the fastest Chinese movie to reach the milestone of 1.05 billion yuan in box office.
However, the film producer had announced public welfare screenings for some targeted groups in 29 cinemas nationwide on August 28, 43 days after the premiere.
Public welfare screening, a common practice for Chinese theaters and production companies, offers free tickets to young children, seniors, police, teachers and those with physical disabilities. 
These targeted screenings were all arranged late at night, when there is a low theater occupancy rate, according to CCTV reporter Zhu Huirong.
The results are contrary to earlier self-released data that all screenings were well-received, with a 108 percent occupancy rate, which meant that eight out of every 100 people watched the two-hour movie without seats.
Also, Chinese netizens reported cases of film screenings in the middle of the night and multiple showings of the film on the same theater screen, scheduled about 10 minutes apart.
Meanwhile, movie industry insiders have revealed that inflating a film's box office receipts is an unwritten rule within the movie theater circles.
Gao Jun, former general manager of the New Film Association, said doing so costs little, about 10 percent of the total cost of the movie itself.
"Specifically, 5 percent of the fees were used for the 'Movie Special Fund', 3.3 percent for the circulation tax, 2 to 3 percent for the digital equipment," Gao said.