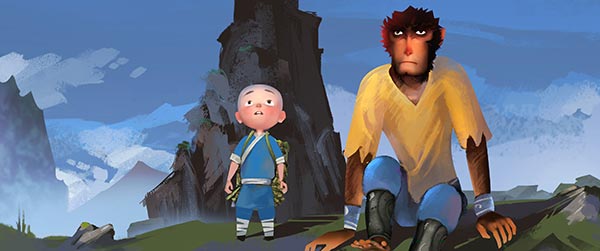 The Chinese animated film Monkey King: Hero Is Back is set to be screened in the United States. [Photo provided to China Daily]
The Chinese film and TV industry wants better "foreign voices" on overseas screens.
Translation is still a problem, though. At least, that is the consensus of a recent symposium co-organized by the Ministry of Culture and the State Administration of Press, Publication, Radio, Film and Television.
During a 10-day Sino-Foreign Audiovisual Translation and Dubbing Cooperation Workshop and Symposium in both Beijing and Shanghai, which ended on Wednesday, nearly 60 filmmakers, translators and film company managers from 30 countries shared their insights on how to better promote Chinese productions in their home countries with more approachable channels for audiences.
Nussipzhanov Yertay, a symposium attendee and a major promoter of Chinese films and TV series in Kazakhstan, says he watched last year's popular 48-eposide spy thriller The Disguiser within five days.
"I was looking for someone to translate it into Kazakh, but it has to be someone savvy in history with a wide international horizon rather than someone who does only direct translation," he says.
"When I went to a film studio in Beijing, I was shown some clips of Chinese films, which are dubbed in Russian," Yertay recalls.
"Frankly speaking, I don't quite understand some parts.
"The quality of dubbing and translation needs to be improved. A good work shouldn't be dragged back by dubbing."
This is not a singular case.
Michael Sinterniklaas, founder of NYAV Post, a New York-based recording studio, says Chinese and English translations in cinema can be better.
"When you spend so much money to shoot a film, it is equally important to spend money on dubbing for overseas promotion," he says.
"In the past, we've seen that China is a place full of technology and cultural creativity, but the efficiency of our cooperation can be improved."
NYAV Post's most recent project has been to dub for last year's Chinese hit animation Monkey King: Hero Is Back, which soon will be screened in the United States.
Deanna Gao, founder of the China Film Festival in Paris, says: "In most cases, dubbing is replaced by subtitles to save money and time. But subtitles are difficult to read for many people, like children."
Nevertheless, in China, dubbed foreign films have become rarer in cinemas, and that may partially explain why Chinese films rely more on subtitles than dubbing when they are exported.
Meanwhile, a report released by Beijing Normal University in March shows 70 percent of overseas filmgoers are unsatisfied with subtitles in Chinese films.
Gong Lanwei, president of the Australian International Chinese Film Festival, says that ticket holders for award-winning Chinese films sometimes leave the cinema before the end due to poor translation of subtitles.
Veteran Chinese film producer Yue Xiaomei says making a dubbed version is like re-creating a film, and thus demands more attention.
"We don't encourage foreigners to translate Chinese films. It's difficult for them to capture some cultural meanings," says Zhang Shufang, president of China Broadcasting Media.
"However, the dubbed voice must come from a native speaker of foreign languages and the postproduction needs to be completed in their home countries."
Related:
Officials urge more cooperation in films and TV series translation