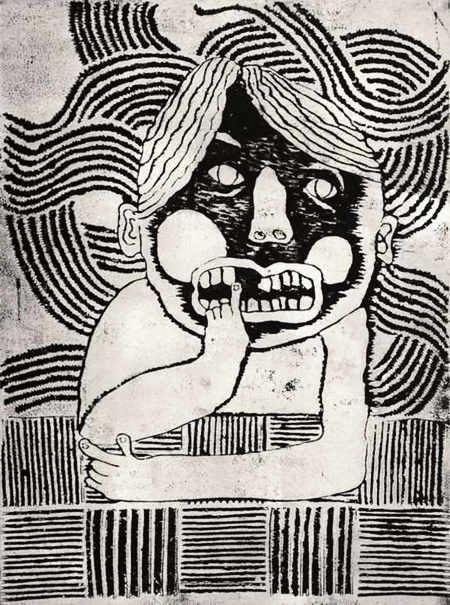 My Tooth is Lost, drawn by a 10-year-old child. [Photo/people.cn]
A child touches his mouth with a foot-shaped hand, and in black and white, the scene is more like a bad dream than a painting. In another art work, a large black cat wears a disappointed look as it stares at a plate containing a fish bone. The yellow and green patterns on its body look like food in its stomach.
Abstract and mysterious, some of the paintings echo the work of Pablo Picasso. They were among 140 children's paintings shown in the Beijing Exhibition Hall of Artists' Home on June 12.
Young artists' nationwide brought their imaginations to canvas and with the use of colors and lines, without fancy techniques, their unframed paintings reflect a special period in children's lives. Their innocent eyes captured a world that is different from the one in adults' minds. Their feelings, happiness, sorrows or panic are conveyed in a more direct way in their paintings.
There is no judgment, but just an opportunity to open your mind and see what people and animals look like in these little creators' world.
The national tour of the exhibition will follow in other provinces, including Hunan, Sichuan and Henan.