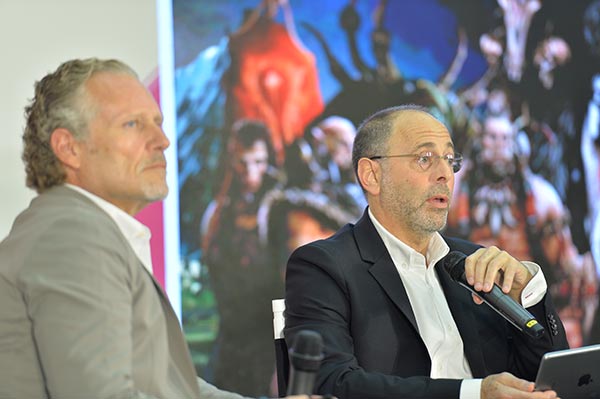 Warcraft producer Alex Gartner (right) alongside American studio Propaganda GEM CEO Ruben Igielko-Herrlich at a forum on international cooperation during the 19th Shanghai International Film Festival. [Photo provided to China Daily]

Warcraft producer Alex Gartner predicts that we'll see more Hollywood films adding Chinese elements, a trend he spoke of in a recent forum during the Shanghai International Film Festival.
Warcraft, the cinematic adaptation of the popular video game World of Warcraft, has scored a box-office record in China.
In the first five days of release, it raked in more than 1 billion yuan ($151 million) on the Chinese mainland, despite only grossing $24.4 million in the first week in North America.
"Now the whole world is taking about China," says Gartner.
The cross-border film market forum was held by Nanzi, a Shanghai-based fund company, which plans to invest 23 Hollywood films in the next five years.
Garner says game fans in China appear more "loyal" than their counterparts in the English-speaking world, which makes the movie more welcome in China than some Western countries.
He also notes that multiple cultures, such as ancient China's myths and Europe's Middle Ages legends, have been interwoven in the film to intentionally attract audiences with different backgrounds.
China's booming market will prompt more Hollywood studios to add Chinese elements in their films, Gartner says.
Related:
'Warcraft' rules box office on Dragon Boat Festival