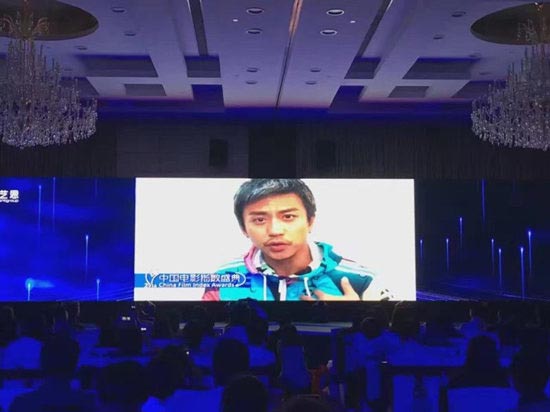 Actor Deng Chao delivers a speech on screen. [Photo provided to China Daily]
With his recent three films' box office tally soaring to 4.35 billion yuan ($659 million), Deng Chao has been listed as the most lucrative actor on China's big screen.
Deng, 37, won the most attractive star on big screen at the 2016 China Film Index Awards on June 13. His highest-grossing blockbusters, released during the past year, are the romance comedies Mermaid, Devil and Angel, and the crime thriller The Dead End.
While most of the movie awards are decided by juries, the award is interestingly "calculated" by computer.
Entertainment researcher Entgroup, which holds the annual event, says all the eight winners, including four stars, three programs and one distribution firm, are selected from big-data analysis, ranging from the box office, media circulation to online feedbacks.
The other winners include actor Liu Haoran (best new talent), director Chen Sicheng (best newbie director) and the animated film Monkey King: Hero Is Back (most anticipated picture).
Related:
What China's film industry can learn from Shakespeare
'Finding Dory' sets animation film box office record with 136.2m