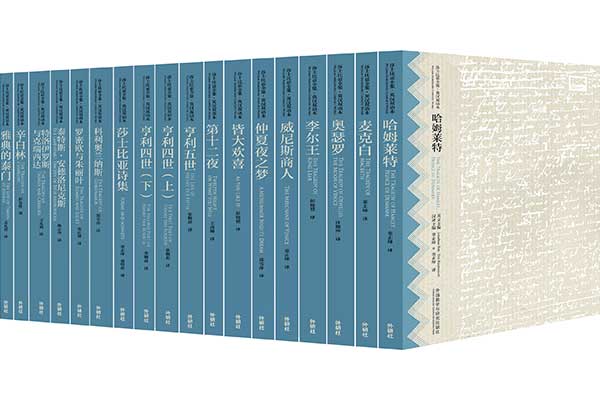 William Shakespeare: Complete Works is published to mark 400 years since the Bard's death.[Photo provided to China Daily]
A new Chinese collection of William Shakespeare's works is bringing one of the world's greatest playwrights closer to people in China, says Gu Zhengkun, chief editor of William Shakespeare: Complete Works, which was published recently by Beijing-based Foreign Language Teaching and Research Press.
In 39 volumes, the bilingual folio contains 12 tragedies and 14 comedies, among other works by the Bard.
The project that was authorized by the Royal Shakespeare Company from Shakespeare's birthplace Stratford-upon-Avon, took Gu, Xu Yuanchong, Zhang Chong and other 20 Chinese translators some eight years to complete.
This year, along with the rest of the world, China is marking 400 years since the Bard's death.
The Chinese collection is based on three previously translated versions by Zhu Shenghao, Liang Shiqiu and Fang Ping - all late Chinese scholars.
Shakespeare's name first appeared in China around 1838, when national hero Lin Zexu was sent by Emperor Daoguang to Guangzhou in the country's south, to supervise an anti-opium campaign. There, Lin found a mention of Shakespeare in a Chinese edition of the Encyclopedia of Geography by Britain's Hugh Murray.
But the process of translating Shakespeare in China really began in 1903, with Tales from Shakespeare, an adaptation by British writer Charles Lamb and his sister, Mary.
In the early 20th century, the Chinese seemed to regard the Bard more as a "writer of strange stories".
Writers like Lu Xun sought to change that perception by using literature to elevate people's spirits in what then was a poor country.
But as more Chinese scholars debated which foreign books should be translated, Shakespeare's works were left out for later because they were "unable to shoulder the responsibility", Zheng Zhenduo, a prominent writer, translator and critic, wrote in a magazine back then.
Even author Hu Shi wrote in an earlier essay that he didn't see Hamlet's greatness. "Hamlet is such a fool!"
But after the '30s, eminent writers such as Zhu and Liang started translating the complete works of Shakespeare.
Zhu completed translating 31 works in a decade and died of overwork. Liang, on the other hand, spent nearly 40 years translating the Bard.