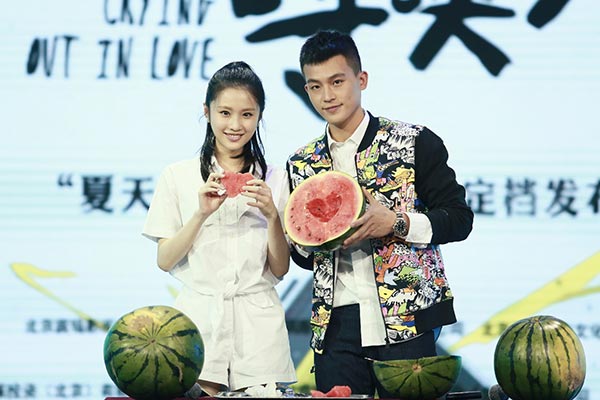 Actress Zhang Huiwen and actor Ou Hao. [Photo provided to China Daily]
Japanese author Kyoichi Katayama's best-selling romantic novel
Socrates in Love
has inspired a Chinese-language romantic film.
Crying out in Love, the Chinese cinematic adaptation, will premiere on Aug 26, it was announced on June 21.
The movie, directed by South Korean veteran Kwak Jae-young — hailed as "the godfather of youth romances" — stars Ou Hao and Zhang Huiwen.
Kwak says he saw a script based on the novel more than 10 years ago.
"I had this tale in my mind for more than a decade. I am lucky to get a chance to turn it into a big-screen title in China," he said.
The director, 57, said the movie has many sequences which are very touching and heart-warming.
Starting with a flashback of the middle-aged protagonist, the film is about his high-school affair with a classmate, who died of leukemia.
Socrates in Love sold 3.5 million copies in Japan in 2004, overtaking Haruki Murakami's Norwegian Wood, to be the best-selling romantic novel that year, according to the Chinese producer Enlight Media.
So far, the novel has been adapted into several movie and television productions in Japan and South Korea.
Related:
Disney's 'Finding Dory' leads box office again