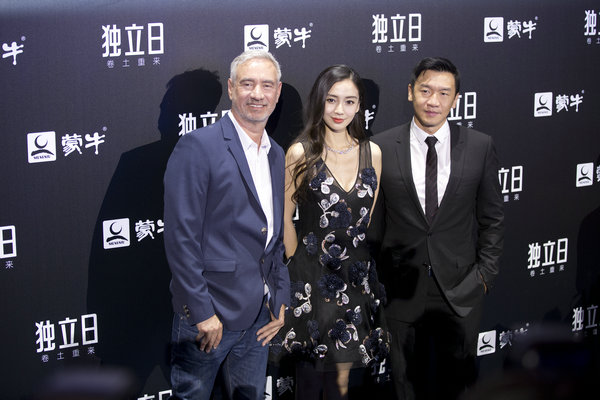 Independence Day: Resurgence's director Roland Emmerich teams with Chinese actress Angelababy and Singaporean actor Ng Chin-han in a promotional event in Beijing. [Photo by Feng Yongbin/China Daily]
Aliens invading the Earth is dramatic stuff. But, something like this-which was novel for audiences decades ago-is failing to rouse viewers today. And to prove it, Fox's $165-million tentpole, Independence Day: Resurgence, grossed only 300 million yuan ($45 million) five days after it premiered on the Chinese mainland on Friday.
The film is being squeezed by Hollywood action film Now You See Me 2 (363 million yuan), and is now second in the mainland's box-office charts, according to the live box-office tracker Cbooo.cn.
Typically, the opening weekend of a film is a good indicator of the market potential of the movie, as cinemas then decide whether to retain or reduce its screen time based on revenue as well as viewer feedback.
Considering that similar-sized tentpoles, such as the recent hit Warcraft, quickly surpassed the 1-billion-yuan-mark in its first five days, Independence Day: Resurgence seems to have performed poorly.
Despite the 1996 film Independence Day being seen as a sci-fi masterpiece by millions of Chinese fans, nostalgia has failed to help the sequel win similar acclaim.
Despite both films having the same director-Roland Emmerich-the movie has scored just 5.9 points out of 10 on the country's most popular movie-review site Douban.com.
Most fans, who once flocked to theaters to relive memories of their youth, say the film's plot lacks novelty.