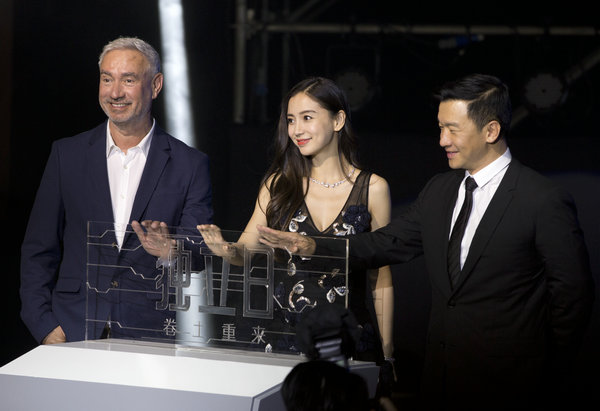 Independence Day: Resurgence's director Roland Emmerich teams with Chinese actress Angelababy and Singaporean actor Ng Chin-han in a promotional event in Beijing. [Photo by Feng Yongbin/China Daily]
For Hollywood fans, the world has already been destroyed a couple of times in the first half of the year.
First, Superman teamed up with Batman to bomb China's big screen in March, then Avengers' superheroes did the same in May, and in June it was the turn of the X-Men mutants.
Batman v Superman: Dawn of Justice; Captain America: Civil War and X-Men: Apocalypse were all just visual spectacles.
The sequels also had one cliche message: Good will triumph over evil and save the world.
With this background, it is easy to understand why Chinese audiences, who are limited to only 34 imported films a year, are tired of repeatedly being fed the same stories, twists and sequences.
For director Emmerich, however, the poor response garnered by his latest film just seems to be a case of bad timing.
For the 60-year-old veteran, this is the first time he has made a sequel in a blockbuster-studded career spanning for more than three decades.
Emmerich, known for his disaster epics, has made global hits such as 2012 and The Day After Tomorrow.
Without megastar Will Smith in his sequel, Emmerich had to use other means to make the film attractive. And he tried.
The movie features what the director calls a "post-world war" generation that uses advanced technology to fight invaders from a remote planet.