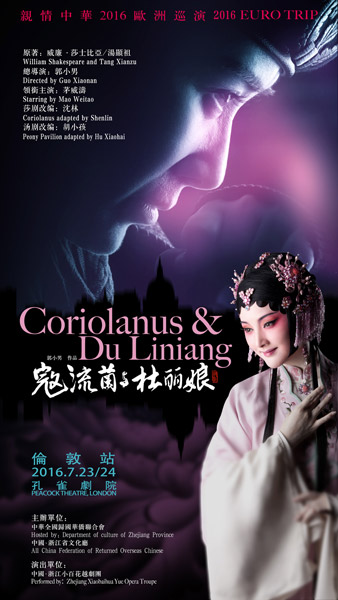 A poster of the Coriolanus & Du Liniang. [Photo/shakespeare-tang400.org/]
The Zhejiang Xiaobaihua Yue Opera Troupe rehearsed a brand new Yue opera production Coriolanus & Du Liniang for the first time on July 8, to mark the 400th anniversary of the deaths of William Shakespeare and Tang Xianzu.
British playwright William Shakespeare and his Chinese counterpart Tang Xianzu have often been compared because of their shared values. And, within the same year – 1616 – the two dramatists passed away.
In this production, Shakespeare's Coriolanus, the tragedy of a Roman general who finds himself banished by his own people is entwined with Tang Xianzu's The Peony Pavilion, the love story of a young girl named Du Liniang who falls asleep in her garden and dreams that she encounters a handsome scholar named Liu Mengmei. The two central characters meet on stage. Whilst Coriolanus makes a decision which ultimately costs him his life, Du Liniang's heartbroken death is a sign of hope to be resurrected with her love once more.
The bold mix of the two classics is seemingly ridiculous but thought-provoking on so many levels.
In the production, Coriolanus was rewritten by a professor from the Central Academy of Drama Shen Lin while The Peony Pavilion was adapted by Hu Xiaohai, a Zhejiang-based playwright. As for the Plum Performance Award-winner Mao Weitao, she played both Coriolanus and Liu Mengmei.
The production employs the popular "dramaturgie" to interpret Coriolanus in a modern and western way and The Peony Pavilion in the classical Chinese operatic fashion. Therefore, the former hedonism's contrasts and collides with the latter's enigma. Just like the director Guo Xiaonan said: "excitingly, viewers can enjoy two shows at a time. That's exactly the highlight of the production. "
The troupe will start a four-country tour on July 19, visiting Britain, France, Italy and Austria. The production will make its debut at the Peacock Theatre in London on July 23, followed by a relevant forum attended by the troupe and London artists.