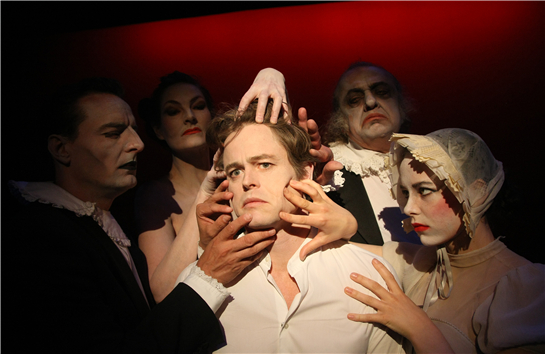 A scene from the play, The Tiger Lillies Perform Hamlet is presented. [Photo/wuzhenfestival.com]
The Wuzhen Theater Festival recently released this year's theme and performance list. Focusing on "Gaze Beyond", nearly 80 performances of 22 plays from Germany, France, Russia, Spain, Japan, Poland, Switzerland, Australia, Lithuania, Romania, Chile and the Netherlands, will be shown from Oct 13 to 22 this year, which sets a new record of hosting scale in its history. Meanwhile, the young theater artists' competition, the Wuzhen dialogues and workshops, outdoor carnivals will be held.
Lin Zhaohua, China's most famous theater director, was invited as honorary chairman of this year's festival. His new play, Doctor Gordo, or Six Persons looking for the 18th Camel, will premier during the festival.
To broaden performance space, Wuzhen transformed the World Internet Conference Centre into the Internet Theater, where the Russian play, Mother Earth, will be shown. Special court plays such as Kaligula, will be provided at the Traditional Storytelling Hall. More outdoor plazas, like the Water Theater and Shi Tian Square, will be explored in the future.
This year's specially invited plays cover four differently themed series - the new classics "At This Moment", Shakespeare classics "Impressed for 400 years", space and body series "The Power of Silence" and the discovery series "The World Where We Exist".