Chain eateries are bringing local Hangzhou specialties everywhere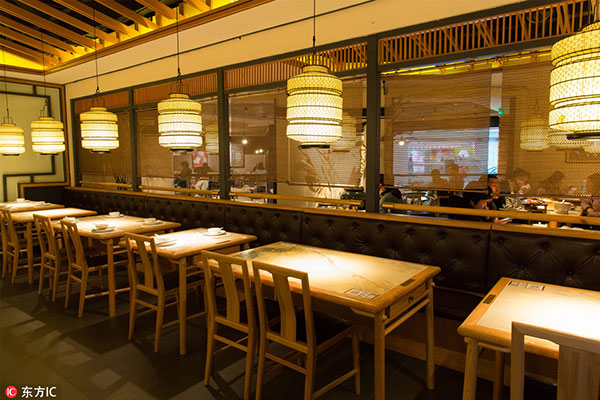 Each Green Tea-named for one of the area's prime commodities-is set in a bare-brick interior that allows old tea-fermentation vessels and a big collection of clay teaware to stand out on the simple walls. Rattan implements and colorful, flowery cushions add additional layers of charm to the decor.[Photo/IC]
If you weren't hanging out with G20 leaders recently, you don't have to miss out on what they might have eaten. In fact, you don't really have to be in Hangzhou to enjoy the culinary traditions of Zhejiang's provincial capital. Two popular eateries that started there, Green Tree and Grandma's Home, have grown into huge networks with outlets in many Chinese cities.
Of course, there's nothing like being where it all began.
Ordering can be a challenge for foreigners: The mark-it-yourself menu is only in Chinese at many locations. The staffs, while equally lacking in English, are overeager to help: At one Green Tea location in Hangzhou, for example, my server scanned the restaurant's QR code into my phone for me, and we navigated the photos and my guidebook's recommendations to a harmonious conclusion. Without her help, I would have accidentally ordered the bullfrog, a house specialty but not really my cup of tea, when I really wanted the Green Tea roast chicken.
Classics on offer at both include hongshao dongpo rou, red-braised pork belly cooked with ginger, garlic, star anise and other fragrant spices, a hint of chili pepper, sugar, light and dark soy sauce and rice wine. Slow cooking makes the fat and skin gelatinous, so it melts easily in the mouth. The sauce is thick and sweet, a great example of how Hangzhou and other cuisines in southern China use sugar to cook meats in addictive ways that are often a surprise to Western diners.