Chain eateries are bringing local Hangzhou specialties everywhere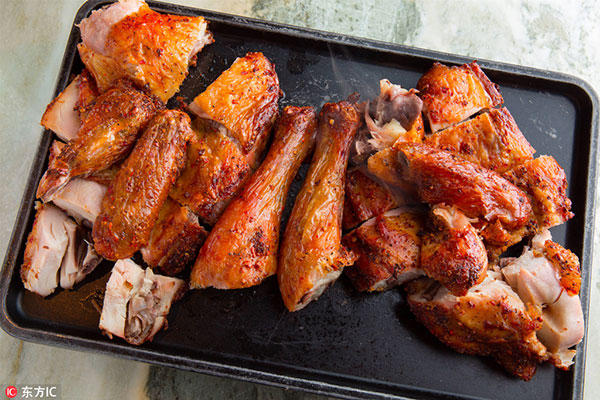 The Green Tea chicken boasted an interesting, slightly salty mix of herbs and spices.[Photo/IC]
Green Tea
Each Green Tea-named for one of the area's prime commodities-is set in a bare-brick interior that allows old tea-fermentation vessels and a big collection of clay teaware to stand out on the simple walls. Rattan implements and colorful, flowery cushions add additional layers of charm to the decor.
The Green Tea chicken boasted an interesting, slightly salty mix of herbs and spices. I wasn't sure if "Green Tea" was a reference to the restaurant name or to actual longjing leaves. If tea was present in some way, its was too subtle for my non-Chinese palate.
The star at our meal was the eggplant clay pot. Chunks of the vegetable, the long, purple Asian variety, glowed like amethyst jewels at the top of the pot. They were doused with a reduction of soy sauce that was slightly sweet, and stewed with a big cluster of Japanese mushrooms. A bit of minced garlic punctuated the sauce, and there was a sprinkling of spring onion on top. Together, it tasted as good as it looked, and was a great match for the tender but unsauced chicken.
Green Tea grilled fish, pepper bullfrog, curry chicken and Jiujiang mapo fish are other popular specialties.
We'd been warned off the joint's coffee-said to be laden with super-sweet creamer. But why would you come to a place called Green Tea and drink coffee, anyway?
We'd also been warned to expect a long wait to get a table, but because we made this our first meal of the day, and arrived for lunch right at 11 am, we walked into a nearly empty restaurant. The conventional wisdom does apply, however, even in the sweltering days of August: By 11:30 the place was hopping, and people were standing in the aisles with not so subtle glances at our jewel-toned eggplant.