Chain eateries are bringing local Hangzhou specialties everywhere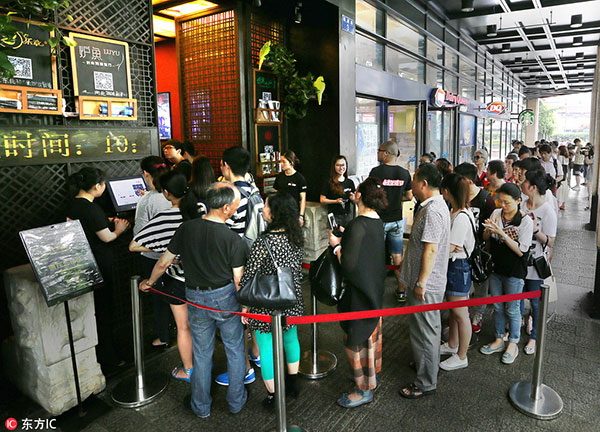 The restaurant only accepts reservations for groups of 10 or more; to avoid the typical wait of more than a half-hour, go before 6:30 pm or after 8 pm, but note that most Grandma's Home restaurants-and many other restaurant, in Hangzhou-close at 9 pm.[Photo/IC]
Grandma's Home
My grandma's home was a quiet place to have a meal. This franchise, however, is a jumpin' joint, popular with locals for serving up classic Hangzhou favorites that your granny might make if she was a Zhejiang old-timer.
Founded in 1999, the restaurant has dozens of outlets around town, but the Hubin Lu branch-a short walk from West Lake-gets more buzz than other locations.
We started our meal with shelled shrimp with cooked tea leaves, a local favorite with sauteed shrimps gleaming in a lightly starchy sauce. The dragon-well (longjing) tea flavor is mild, but lingers on the palate even when you dip the shrimps in the light and fragrant vinegar sauce served on the side. (You're in Hangzhou, so think vinegar more than soy sauce, though both may be on offer.)
In an aquatic mood here on West Lake, we'd planned to order the locally famous Mandarin fish, also know as squirrel fish: a picturesque platter with spiral-cut fish flesh bathed in bright sweet-and-sour sauce. We'd come to the restaurant a little late that night, however, and this fish was sold out. (Bu yao means "We don't have it.") So we opted for a yellow croaker, which came served whole and simmered in a light meat sauce reduced to a fine gravy. The fish was tender and delicious, and the gravy offered a treasure hunt of pork tidbits and whole garlic cloves elevated to godliness in the poaching process.
Swimming alongside the fish in the sauce were four rice cakes, a popular side dish that may seem gummy to the uninitiated.
Longjing tea chicken is one of the restaurant's most popular (and most copied) dishes. It's a modern marriage of two of Hangzhou's traditional dishes: the beggar's chicken and Longjing shrimp.
Chef Yuan Zixiang told CNN in a 2011 interview that wrapping the tea-soaked chicken in parchment paper then roasting, rather than boiling, makes the meat amazingly moist with a fall-off-the-bone tenderness.
"It was the philosophy of our owner, Wu Guoping, when he opened the chain's first restaurant that it should provide food that fellow Chinese citizens are able to afford and enjoy in a nice setting," business manager Liu Wei said in the same interview.