Italian actress Bellucci says beauty is gift but also provokes violence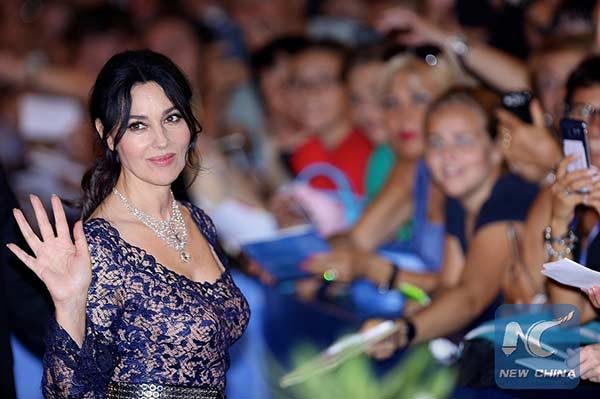 Actress Monica Bellucci meets her fans as she arrives for the premiere of the movie "Na Mlijecnom Putu" (On The Milky Road) at the 73rd Venice Film Festival in Venice, Italy, on Sept 9, 2016. [Photo/Xinhua]
Beauty is a gift but it is also like a "horse", you have to deal with that because it provokes curiosity but also violence, said Italian actress Monica Bellucci during the Venice Film Festival 2016.
"I liked this love story between two people who went through so many hardships in life," Bellucci told Xinhua in a recent interview on her movie On The Milky Road presented in competition at the film festival.
"They have seen everything and there is nothing less to lose for them but still there is something magic," said Bellucci.
The movie On The Milky Road depicts a story that stretches across war, blossoming love and living as a recluse.
Bellucci starred in James Bond movie "Spectre" at the age of 51, becoming the oldest actress playing the Bond Girl. She will also be in the cast, together with Naomi Watts and Jennifer Jason Lee, of the third season of the TV series "Twin Peaks" by David Lynch.
For Bellucci, working with Emir Kusturica, who is the director of On The Milky Road, was very interesting but also extremely challenging, because the script is just the base then there is so much improvisation and unplanned things happening during the shooting.
In life, Bellucci prefers a pasta dish more than a gym session. However, "but with him (the director) you have to forget all that, sometimes I had to jump in the cold water or do crazy things. I didn't take big risks but sometimes on set you have the courage to do something that in real life you would never do because when you work in a movie you are beyond reality," she explained.