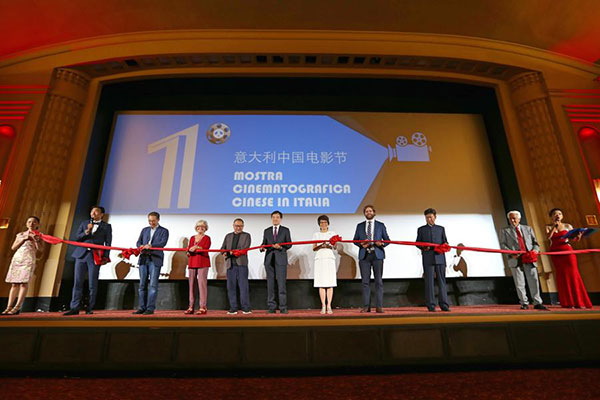 [Photo/Xinhua]
The first Chinese Film Festival in Italy kicked off here on Thursday, with a top selection of movies, and a series of forums to address the evolution of China's film industry.
The festival will run at the Space Odeon Cinema in Milan until Sept 18, while related events will also take place in Venice, Rome, Florence, and Turin, according to the organizers.
Some 40 films will overall premiere during the gala, and the selection would include the best of Chinese movies released in recent years.
Milan was chosen as host-city not only for his reputation as economic and financial capital of the country, but indeed because here lives the largest, and oldest Chinese community of Italy.
"The festival aims at providing a cultural bridge between the 'new citizens' and their 'hosts' through the universal language of cinema," the organizers said.
As such, it would offer a chance of dialogue and discussion to all those who love cinema, arts, and visual language, among both Italians and Chinese.
The event also took inspiration from Italy's long tradition in cinema.
"Besides being the 'cradle' of the Renaissance, Italy also gave birth to one of the most prestigious film festivals in modern times," the organizers added.
"The Venice Film Festival, which was established in 1932, is now one of the most relevant at European and global level. It is our role model and ultimate goal in the future," the organizers added.
Some 20 professionals and experts will contribute to the festival side-events in order to address the developments of China's film market, which is expected to become the world's largest in about two years.
This rapid evolution will be discussed through different perspectives, such as the Chinese market's growth in terms of production and distribution, and the current increase in the number of theatres in China.
Chinese contemporary movies will also be analysed in terms of contents, as a way to convey the social, cultural and economic evolution of China's society to the Italian audience.
The selected movies would compete in three different sections, including a main movie competition and a documentary section.
Prominent cinema professionals from both China and Italy will constitute the Festival's jury, including Chinese director and Berlinale Silver Bear Jury Grand Prix winner Wang Xiaoshuai, Italian Academy-Award winner production designer, art director, and costume designer Dante Ferretti, and Italian cinema journalist Maria Pia Fusco.
Along with the best movie award, and best documentary award, the jury will confer a prize to the best director, best screenwriter, best actor and actress in competition.