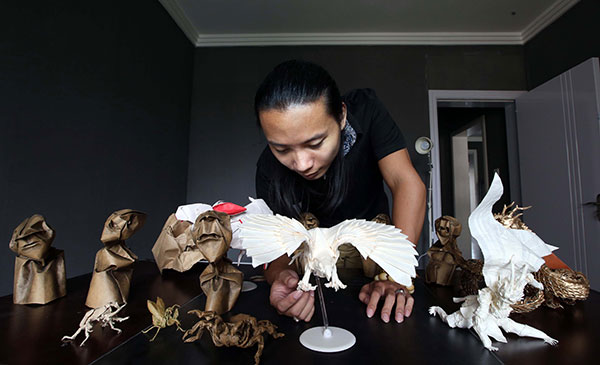 Qin Kun devotes himself to origami and produces some amazing work. None of his works can be copied, each piece has its own unique character.[Photo by Liu Jiaoqing/China Daily]
Qin, 31, has an incredible ability, and a driving passion, to bring a piece of paper to life by working and folding it into works of art. ZHANG LI/HUO YAN
Qin Kun is hungry but he refrains from using his hand to pick a morsel of sushi. He does use his hands, however, for judging and feeling the paper that he shapes into intricate representations of animals and insects.
No scissors, no glue, no cutting, Qin works day and night in this pursuit.
Qin, 31, has an incredible ability, and a driving passion, to bring a piece of paper to life by working and folding it into works of art.
"I keep folding without knowing where I am heading for," Qin said "but then an idea grabs me until it blows my mind."
For years, he toiled on origami pieces alone in his studio in Guilin until one of his works, a paper mantis, was recently sold to a Spanish collector for 210,000 yuan ($31,400).
Some people think it's incredible, they see nothing but a piece of paper transformed by my work, he said.
But collectors who know about origami view it as high art, he added, and most of them are foreigners.