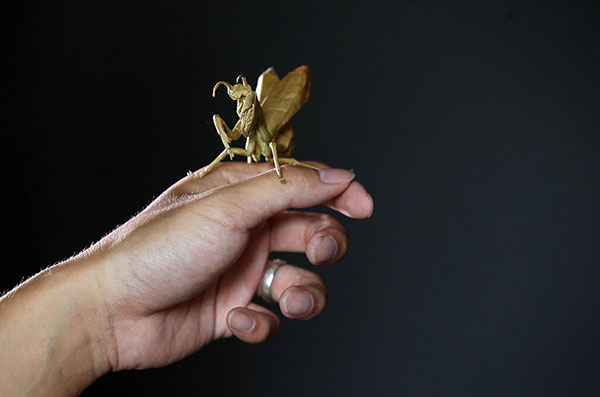 [Photo provided to China Daily]
His work, like that of any artist, is time consuming.
"Folding takes much longer than you expect, usually dozens of days for a work like the mantis, but if you work on an especially delicate one, then you can only make two or three a year."
Neither can any work be copied, each piece has its own unique character and the intricate detail cannot be repeated.
"Everybody can work out a base according to a crease pattern, but the shaping of the basic figure depends more on talent and creation", explained Qin. "Just think of how to create emotion from paper."
One such piece of work saw the creation of a monkey king, with each hair delicately crafted. After 20 days sweating and concentration, the work was finally completed and it is estimated to be worth more than 1 million yuan.
Among the works he highly values is a dwarf he made in 2014 when he thought he must do something special to mourn the passing of Joisel who died in 2010.
Joisel was renowned for his dwarf series, especially for their gestures, so Qin created a dwarf saluting, in tribute to a man he describes as a selfless origami master.
"Eric passed away, but his style stays. The most valuable lesson he passed on to me was not about folding skills but the universal truth that spending time on things you are not fond of is equal to wasting life."