Drinkers have reason for good cheer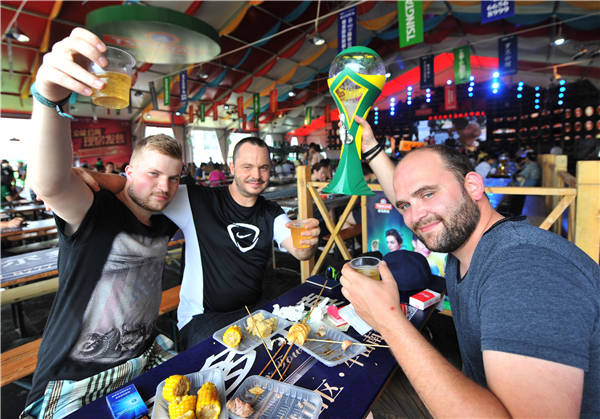 Tsingtao beer is appreciated by thirsty customers during the International Beer Festival in Qingdao, Shandong province, in August. Wang Haibin / For China Daily
More brands on offer than ever before amid increasing thirst for refined beverages
The Olympic Games and an unusually scorching summer should have provided a big boost for major beer companies, not least for craft beers who are emerging, it seems, stronger, swifter and faster.
The craft beer industry has been experiencing robust growth in recent years despite a generally shrinking beer market as wine makes inroads. The National Statistics Bureau announced last month that for the first half of 2016, China produced 22.51 million tons of beer, down by 8.36 percent year-on-year. The industry has recorded falling production, up to June, for 24 consecutive months.
In contrast, imports of craft beer have soared almost five fold over the past three years. In June, Chicago-based brewery Goose Island was officially introduced into China through Anheuser-Busch Inbev, which acquired Goose Island in 2011.
The domestic craft beer market is facing severe competition. US craft beer tavern franchise World of Beer opened its first overseas outlet in Shanghai, on a bustling neighborhood street next to Dr Beer, a local brewery and bar.
"Craft beer drinkers in Shanghai have reached a sophisticated level. For instance, they give us tips such as Russian Imperial Stout should be kept out of refrigerators in order to maintain its rich flavor," said Yin Cong, market development partner with World of Beer and the CEO of Shanghai WOB Restaurant Management Company.
The 31-year-old native of Sichuan became emotionally and physically "addicted" to the first WOB outlet in Tampa, Florida where he worked with a local IT company. Inspired, Yin then decided to introduce the concept to China.