Terroir by the glass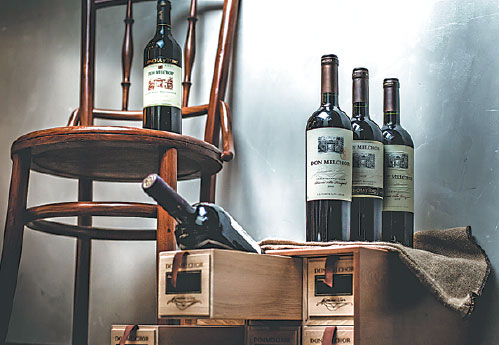 Vintages as old as 1988 have been featured in the company's ongoing Asia tour.[Photo provided To China Daily]
One of Chile's ultra-premium winemakers is touring Asia with a star chef, and standing the traditional wine-dinner concept on its head
Few people would have the nerve to ask a former three-star Michelin chef to eat dirt.
But that's more or less what Don Melchor winemaker Enrique Tirado did when he began to plan his current wine and gastronomy tour with celebrity chef Bruno Menard.
"At most wine dinners, you have a menu to start with and you go looking for wines that will complement those dishes," the oenologist tells China Daily in Beijing. "We are doing the opposite - we are starting with four vintages, and creating dishes with simple yet exquisite ingredients to enhance the key aroma and spirit of each Don Melchor vintage."
So before asking Menard to construct a menu to complement the four chosen wines, Tirado brought his consulting chef down to the southern end of the world to deconstruct the vineyard's profile. That meant all but inhaling the stony soils that produce some of Chile's top wines.
The Don Melchor story began in 1986, when leading Chilean winery Concha y Toro set out to create not only the finest red wine the Andean country could produce, but also create a "terroir wine" comparable to the elite wines of both the old and new worlds.