Study: Organic wine tastes better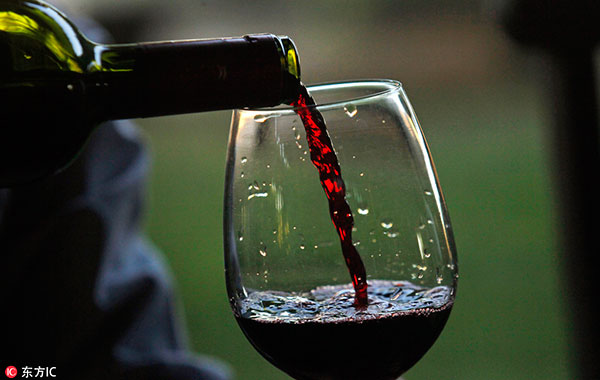 Researchers find organic wine is the superior drink.[Photo/IC]
Vino made from organic grapes fared better with critics by an average of 4.1 points
It's official, organic wine (made from grapes grown without pesticides, fungicides or any other artificial fertilisers) does taste better than non-organic wine.
A research team from the University of California used data from three leading wine publications - Wine Advocate, Wine Spectator and the Wine Enthusiast - to "assess the quality of 74,148 wines produced in California between 1998 and 2009."
The researchers used a standardised 100-point scale to control for differences between the magazines scoring systems and found that, on average, wines made with certified organic grapes scored 4.1 points higher than non-organic.
Lead author of the report and UCLA environmental economist Magali Delmas said: "The bottom line is that however we look at it, we find that organic and biodynamic farming has these small but significant positive effects on wine quality.
"Wine makers say it's better for the quality of wine. It's a purer taste with more sense of the terroir, because you replace pesticides with labour, you have hands-on care for the vines and you improve the composition of the soil and you get back all the life - the microbes, insects, bees and worms that you need in agriculture."
Professor Kaan Kurtural, of the UCLA Department of Viticulture and Enology, added that the difference in quality between the two types of wine could be because organic grape vines produce less through, causing the canopies to be thinner and allowing the grapes that do grow greater exposure to the sunlight. This cultivates more "fruit forward" flavours, like cherry.
Despite the study finding organic wines taste better, they still sell poorly. A 2015 study from Delmas which asked consumers to select a wine based purely on the label found that organic variations were only chosen over conventional ones when the latter were deemed to be from a region that produces low-quality wine.
Delmas wrote: "This preference indicates that respondents not only obtain some warm glow value from eco-labelled wine, but also possibly interpret eco-labelling as a sign of lower quality."
This bias, Delmas says, leads some organic wineries to avoid labelling their wines as organic, with around two-thirds of the certified organic wineries in California choosing not to display the organic label on their bottles.
Speaking to the LA Times, Delmas said she hopes her research will encourage winemakers to display the proper labels regarding organic certification. "I think this well help move things in that direction. [If not] it's a missed opportunity."
Not everyone is convinced by the researcher however. Telegraph wine columnist Victoria Moore says there are many factors which could influence why the organic wines received higher scores: "It doesn't look as if like has been compared with like in this study so I don't think we can take it very seriously."
"Lots and lots of factors affect the way a wine tastes. For example: yield, whether the grapes are hand or machine picked, and how the grapes are treated in the winery.
"Producers of organic wines tend to be more quality conscious and use methods that are likely to result in a higher quality wine. So it's not clear whether these other factors, or the fact of the grapes themselves being organically grown, is what's causing the average score to be higher."