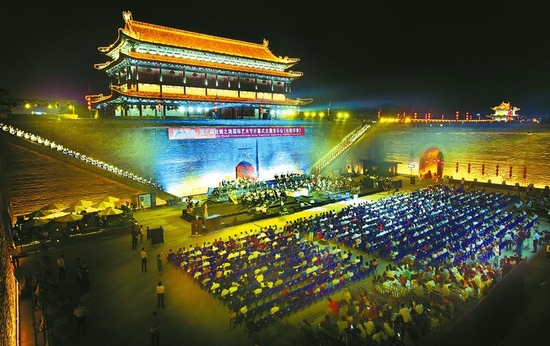 The opening concert of the 3rd Silk Road International Arts Festival is held at the Barbican in Xi'an. [Photo/sxxc.gov.cn]
A grand concert in Xi'an marked the opening of the 3rd Silk Road International Arts Festival on Sept 7. More than 200 performances by artists from 80 countries and regions will appear at the festival, which runs through Sept 21.
Shaanxi province's capital, Xi'an, was the starting point of the ancient Silk Road. Prior to the opening concert, CPC Secretary of Shaanxi's Culture Department Ming Pingying announced the construction of the Cultural Corridor along Xi'an City Wall. Then the Silk Road-themed concert, presented by artists from China, Germany, Austria, Hungary and Switzerland, swept the audience's attention.
In the principles of peace, harmony and cooperation, and to reflect China's cultural confidence, this year's festival is colorful. It includes theatrical performances; painting, calligraphy and photo exhibitions, culture forums and public-interest tours around schools and communities.
There also are several special events, such as a Seminar for Visiting Young Sinologists, Modern Art Week, Creative Animation Week, Poetry Week and Children's Play Week.
The festival is China's first national-level Silk Road-related arts festival and plays an important part in carrying out the Belt and Road Initiative. Over the past two years, it has become more appealing and influential. Since it is held annually in Shaanxi province, we will probably hear more good news about Shaanxi's cultural development.