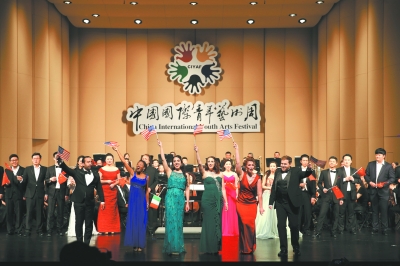 The opening concert of the ninth China International Youth Arts Festival was held at the Beijing Tianqiao Performing Arts Center on August 12. [Photo/ccdy.cn]
The ninth China International Youth Arts Festival (CIYAF) opened at the Beijing Tianqiao Performing Arts Center on August 12. A spectacular concert themed Legacy, Innovation, Youth and the Silk Road was brought by forty-two young singers from twenty countries around the globe.
Vocalists from home and abroad performed some popular Chinese folk songs like Turpan's Grapes Ripened and Mayila Variations. On top of that, they gave world's classic opera excerpts such as Gypsy Songs and Life Is Nothing But A Joke. In particular, there was a fascinating Silk Road Mix exclusive at the concert, consisting of folk songs from Northwest China and those from overseas, including Iran, Turkey and Greece. It is praiseworthy that foreign artists sang Chinese folk and modern songs in Chinese. Their accurate pronunciation and emotional expression are proof of love towards Chinese culture.
Organized by the China lnternational Culture Association and the China Arts and Entertainment Group, the 2016 CIYAF won't end until August 27, with main sessions in Beijing and parallel ones in nine cities across China, such as Shanghai, Guangzhou and Jinan. Spectators will be blessed to see 187 splendid performances from 36 countries and regions, covering musical, drama, dance and opera.
The CIYAF organizing committee has been pushing the boundaries of cultivating talented young artists since the China Young Artist Project at the eighth CIYAF. Several events were added into the program this year, including China Collegiate Music Festival and iSING! Suzhou International Young Artists Festival. Furthermore, the sub-program named "Asian Young Artists Training" was overhauled and the "Teenagers Performing Training Program of CPAA Theatres" was launched.