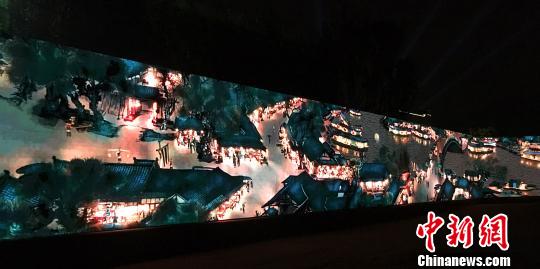 The 3D version of the ancient masterpiece painting, Riverside Scene At Qingming Festival, is displayed in Chongqing for the first time on Saturday. [Photo/ Chinanews.com]
A 3D version of the ancient masterpiece, Riverside Scene At Qingming Festival, made its debut in Chongqing on Saturday, adding a strong flavor of traditional art to the last day of the Mid-Autumn Festival national vacation.
Riverside Scene at Qingming Festival is one of 10 most famous Chinese ancient paintings. It was created by well-known painter Zhang Zeduan of the Northern Song Dynasty (960-1127) and long crowned as China's top art classic. The painting is more than 500cm long and over 20cm wide, and features vivid scenes of the lives of people from every walk of life in the dynasty's capital at the time, Bianjing city, in today's Kaifeng city, Henan province.
The 3D version was created based on the ancient artwork. By magnifying an image of the original painting 10 times in size, the high-tech edition brings the Song Dynasty's capital of 900 years ago back to life. The busy ancient waterways, the bustling streets, farmers, merchants, monks and street-storytellers seem alive. Nearly 1,000 different characters are depicted in the 3D painting, and the effect attracted a slew of visitors.
The exhibition is held at the Binjiang Cultural Life Zone in Chongqing.