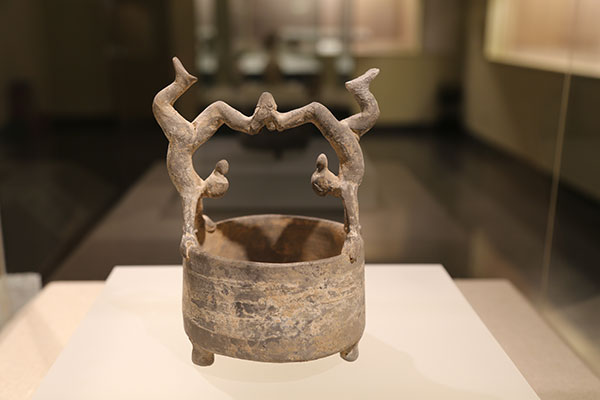 The show Remaining Music Charms of Huaxia sheds new light on the evolution of music in China.[Photo provided to China Daily]
China's ancient music may no longer be heard, but its instruments can be seen at an ongoing show at Peking University.
The exhibition Remaining Music Charms of Huaxia at the Arthur M. Sackler Museum of Art and Archaeology displays dozens of unearthed instruments and items related to dancing.
The pieces are on loan from the Henan Museum in Zhengzhou, where decades of excavations have shown the richness and longevity of China's musical traditions.
The show runs through Dec 15 as part of the 34th World Congress of Art History held at Peking University and Beijing's Central Academy of Fine Arts that ends on Sept 20.
Exhibits include several iconic items that trace music's evolution from prehistory through the prosperous Tang (AD 618-907) and Song (960-1279) dynasties, says the museum's director, Hang Kan.
One of the earliest discoveries displayed - dating to about seven millennia ago - is a Neolithic flute fashioned from a crane's leg bone.
It can produce a diatonic (seven-note) scale and flies in the face of previous perceptions that ancient Chinese music relied on five notes. The flute unearthed in 1986 is consequently hailed as "the origin of Chinese music".
Music evolved over the centuries into yayue (elegant music) - ritualistic classical genres performed at imperial courts. Yayue was established in the Western Zhou Dynasty (c. 11th century-771 BC) - along with laws and rituals - to form the aristocratic order's foundation.
Bronze chimes are perhaps the best-known representative of high-class ceremonial instrumentation.
The show features one engraved with dragon pat-terns discovered in a royal tomb belonging to the Spring and Autumn Period (770-476 BC).
Many displays go beyond court music to show how music was enjoyed by masses.
One such piece is a colorful porcelain pillow from the Song Dynasty that features a vivid painting of children manipulating a marionette, striking a drum and playing a flute while dancing.
A parallel exhibition at the museum also offers insights into the development of China's song and dance.
Dunhuang of a Thousand Years celebrates Dunhuang's cave art through about 40 high-definition digital prints of the city's fragile and immovable murals.
The exhibition through Dec 18 is also part of the congress.
Dunhuang Academy of China's honorary president Fan Jinshi says musical motifs adorn over 200 caves in Dunhuang. They depict dancers performing for courts or ordinary people, as well as in other worlds.
If you go
9 am-4:30 pm. Arthur M. Sackler Museum of Art and Archaeology, 5 Yiheyuan Road, Haidian district, Beijing. 010-6275-9784.