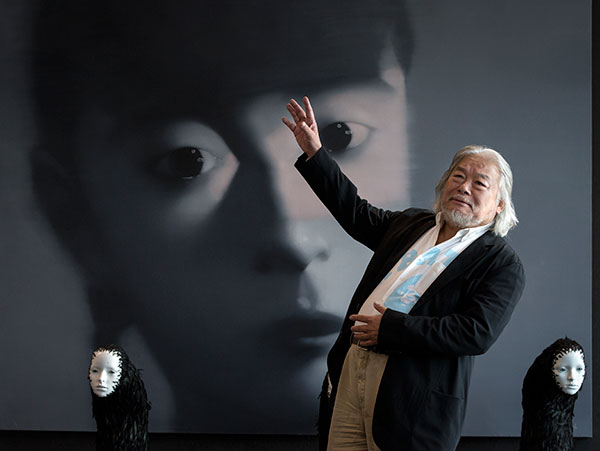 George Wong shows off his collections at his office space on the rooftop of Beijing's Parkview Green.[Photo by Feng Yongbin/China Daily]
George Wong, who does not know how many artworks he owns, says donating them to public institutions and creating spaces to show them is his life's mission. Deng Zhangyu reports.
The main problem for George Wong is finding space to store and display his growing collection of artwork.
The Hong Kong collector, who has been amassing Chinese ink paintings, calligraphy, antiques, celebrities' letters, oil paintings, sculptures and installations since the 1990s, does not know how many such items he owns.
"I'm interested in everything. I have never set a cap on the purchase of artworks and what kind of items I buy," says the 65-year-old executive of Hong Kong real estate firm, the Parkview Group.
Wong, who also likes wine, has more than 100,000 bottles in his collection.
He has also opened many restaurants based on his own culinary preferences.
Wang once bought two Nobel Prize medals to show his respect for those who have made significant contributions to the progress of humanity.
Speaking about his collection, Wong, who met China Daily at his office in Beijing's Parkview Green, a complex he built in 2010 that brings art into a commercial center, says: "I don't buy the most expensive things. I only pay for my interest and for the works I really love."
The private museum on the building's rooftop displays Wong's collection of contemporary Italian art from the 1960s.
Artworks also dot his office space.
A Buddha statue without a head sports a futuristic mask like the ones in Star Wars movies.
Then, there are oil portraits of Wong and his wife.
Paintings by his grandchildren feature on carpets made for the meeting room.
Wong says buying artwork is so addictive that once he began, he could not stop.
His hobby dates back to his childhood when he began collecting marbles, then buying stamps and CDs. During his years in London, he bought paintings and celebrities' letters.
Wong has a passion for contemporary art, which he says has no limitations.
"It's like my personality. I'm open to new ideas and new things. I like change," he says.