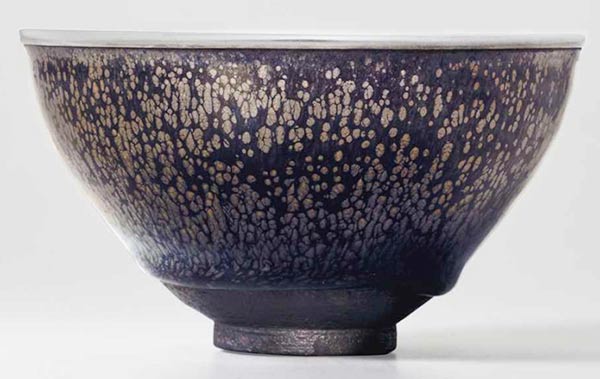 This tenmoku "oil spot" Jian tea bowl set an auction record for a Jian kiln item. [Photo/christies.com]
A tenmoku "oil spot" Jian tea bowl dating from the Southern Song Dynasty (1127-1279) sold for more than $11.7 million at auction Thursday, setting a new world record for a Jian kiln item, during Christie's Asian Art Week in New York. .
The tea bowl, with thick iridescent black glaze suffused with a dense pattern of variegated iridescent "oil spots", has a mouth rim mounted with a metal band. The bowl was owned by the Japanese Kuroda family and auctioned at the sale, The Classic Age of Chinese Ceramics: The Linyushanren Collection, Part II. The auction presented 28 lots from ancient China's most notable kilns, including the Jun, Ding, Yue, Longquan and Jizhou, spanning the centuries from the Five Dynasties (AD 907-960) to the early Ming Dynasty (1368-1644).
Jian zhan, or Jian tea cup (bowl) was an imperial tea set used by the royal court. Tea bowls produced by the Song Dynasty (AD 960-1279)'s Jian kiln are always regarded as highly precious due to their elegant appearance, innovative craft and rich cultural connotation.
There are only dozens of precious "oil spot" tea bowls left and most are in collections in Japan. According to Peking Times, the tea bowl's buyer is said to be a Chinese collector.
Another highlight of Christie's Asian Art Week, is Collected in America: Chinese Ceramics from The Metropolitan Museum of Art, which offered over 400 lots of fine Chinese ceramics ranging from Song Dynasty Jun ware, to blue-and-white porcelains from the Ming and Qing (1644-1911) dynasties and domestic and export items from the Kangxi, Yongzheng and Qianlong periods, didn't perform quite as well.
According to art connoisseur and investment advisor Liang Xiaoxin, the auction lots from the Met's sale are above average quality in a whole, and except for several pieces, like peachbloom-glazed vases from the Kangxi period and several large five-color porcelains, others are below average in quality. "The Chinese porcelains from the Met are almost all from donations, with different qualities and varieties", Liang said.