How street style has upset fashion's traditional hierarchy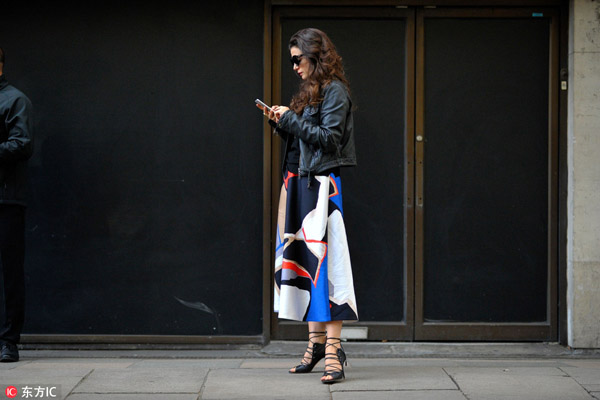 A street snap during London Fashion Week. [Photo/IC]
It has never been so easy to sense the arrival of London Fashion Week.
All of a sudden, sequined blazers, golden boots, and purple lipstick can be easily spotted around underground stations near the major catwalk venues, for example in, London's busy Piccadilly Circus and Liverpool Street, since the London Fashion Week opened on Friday.
Camera-savvy people wearing these items stop and pose as if they are walking on a red carpet, causing temporary traffic jams in the area.
So if you ever wondered how the "spontaneous" street snaps which often feature in newspapers and magazines during fashion week are created, the answer is that these days they are mass manufactured.
If you intentionally or unintentionally turn a blind eye to the various outlandish outfits, you can hardly miss them on the internet, because the next step on the assembly line is that by posting photos on social media, such as Instagram, these street posers become instant fashion bloggers.
The rise of such photo-centric bloggers coincides with the rise of social media, where they can generate a substantial fan base and therefore wield an influence equal to a Hollywood actress, enough to ensnare marketing-savvy brands and earn an invitation to a catwalk show.
From an outsider to insider, a significant career jump is completed.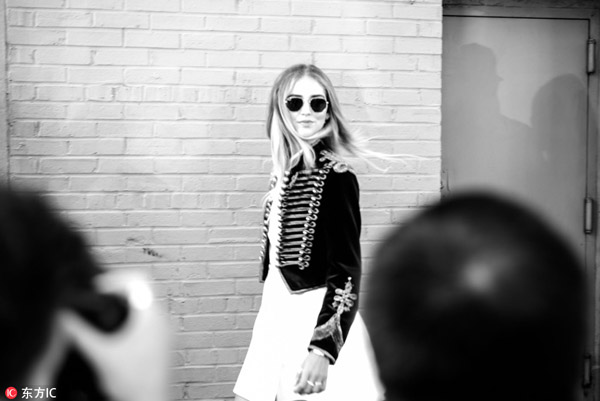 Fashion blogger Chiara Ferragni poses for a street snap during New York Fashion Week on Sept 15, 2016. [Photo/IC] 
Some enormously popular bloggers, such as Chiara Ferragni, can be granted a coveted front-row seat, a prerogative that used to be reserved for media moguls such as US Vogue editor-in-chief Anna Wintour, pop divas like Taylor Swift and powerful retailers.
In an industry which celebrates a well-established hierarchy, these bloggers have crashed into the upper class like nouveau riche.
Ferragni, who some say is the most famous fashion blogger in the world, does more than blogging now. The Milanese-born beauty has launched a footwear collection, turning her 6.6 million followers into potential clients.
Her eponymous shoe brand, according to Women's Wear Daily, created a staggering $10 million in sales last year and allowed her to move to a lavishly-decorated Beverly Hills house.
Ferragni's self-built successful career story has become an inspiration for many of other bloggers, including Ivy Ekong.
Nigerian-born Ekong is also planning to launch her own brand. The London-based blogger has 395,000 followers on Instagram.
Both Ferragni and Ekong are eager to prove that they do more than look good, although everything, including fans, money and fame, comes after looking good.
Thanks to these fashion blogger-turned- entrepreneurs, street style has become an industry that increasingly betrays its original intention.
At the first street style won over average people because it offers something daily commuters can look to for wardrobe tips. Seen a compromise to inaccessibly expensive and unwearable catwalk looks, street style sent a message to fashion-wise yet tight-pocketed people: you don't have to be Hollywood royalty to look smart.
The essence of the original street snaps, which reached its prime time through the work of the late New York photographer Bill Cunningham, lies on its spontaneity, meaning that they can be anything but staged.
Many of those who featured in Cunningham's photos didn't even know that they were being photographed, appearing as they did with a cab or a construction site in the background.
Nowadays street photos capture people sashaying in an empty street, as impeccably dressed as models, making you wonder: who actually wears this?
The same critique used to be applied only to catwalk looks.
When the once down-to-earth street snaps are replaced by pre-orchestrated versions trying to create an illusion of being effortlessly chic, as in, 'Oh, I only had five minutes to decide what to wear this morning', then street style starts to lose its value.
Dressed in, a blonde strolled outside London's Spitalfields Market, where Topshop held its show on Sunday, and smiled to the dozens of cameras shooting her every move.
As the crowds gathered, one of the passers-by muttered:
"Fashion is such a lie."
To contact the reporter: zhangsiyuan@chinadaily.com.cn