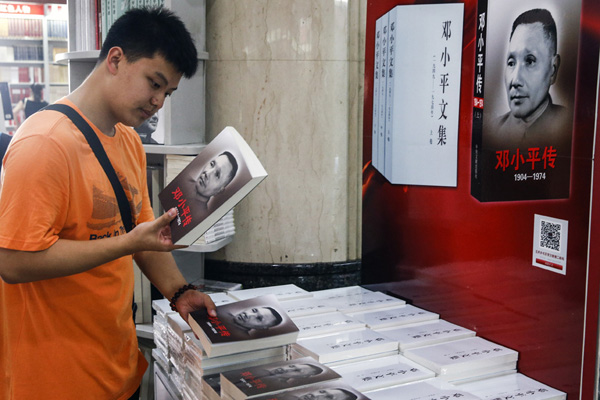 "The Biography of Deng Xiaoping (1904-1974)" reveals intra-Party confrontations [chinanews.com]
A new biography of late Chinese leader Deng Xiaoping has laid bare "ideological confrontations and contradictions within the Party," its chief editor said on Friday.
"The Biography of Deng Xiaoping (1904-1974)," authored by the Party Literature Research Office of the Communist Party of China Central Committee, was published on Monday to mark the 110th anniversary of the birth of Deng, known as the chief architect of China's socialist reform, opening up and modernization.
Yang Shengqun, the book's chief editor, told Xinhua that Deng's theories form an important part of the book, while these theories were shaped by his ideological clashes with other Party leaders of the time.
"Writing about the ideological confrontations and contradictions within the party is without doubt a tough job," but it would have been disingenuous to avoid doing so, he said.
Deng's life, "which was full of ups and downs," reflects this struggle, Yang said.
Born in 1904 in Southwest China's Sichuan province, Deng was revered for his leadership of the country's modern-day transformation that started in the 1970s.
The new biography records Deng's life until 1974, when he became vice premier of China, after being purged during the disastrous 10-year Cultural Revolution.
Yang said the book is based on a large quantity of internal government documents. The writers referred to Deng's speeches, telegrams and letters as well as the memoirs of notable contemporaries. Many of the documents have never been published before.
"We want to present our readers with a faithful account of history," the chief editor explained.