President Xi Jinping has quoted Deng Xiaoping many times since he was Party chief of East China's Zhejiang province a decade ago.

Through speeches or newspaper articles, Xi told officials it was Deng who had pushed reform and opening-up policies and brought an increased standard of living for the people.
Here is a glance at Deng's words quoted by Xi.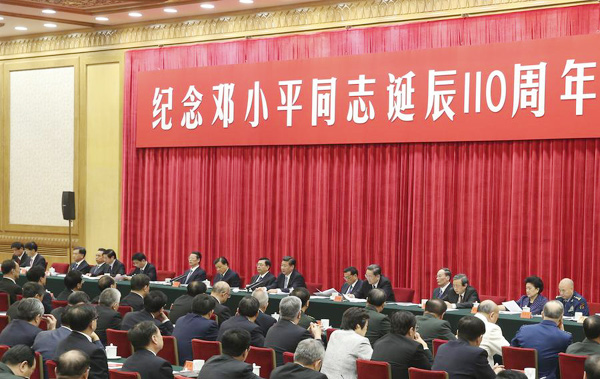 Chinese President Xi Jinping addresses a symposium to mark the 110th anniversary of late Chinese leader Deng Xiaoping's birth, which falls on Aug 20, 2014. Senior leaders Li Keqiang, Zhang Dejiang, Yu Zhengsheng, Liu Yunshan, Wang Qishan and Zhang Gaoli attended the event. [Photo/Xinhua]






"Comrade Deng Xiaoping reiterated many times that stability is the top priority. Without a stable environment, we could achieve very little, and progress we have already made will be lost," Xi said during a conference in Zhejiang province on May 10, 2004, when he was provincial Party secretary.
"While summarizing historic lessons, comrade Deng Xiaoping has stressed that socialist democracy and legislation are closely related, and that we should create a set of laws, regulations, and rules to legitimize democracy," Xi said at a seminar of Zhejiang provincial people's congress, the local legislature, on Sept 14, 2004.
"We should have our own 'first products' (flagship products) and establish our own world-renowned brands, or we will be bullied by others." Quoting what Deng said while visiting South China's Guangdong province in 1992, Xi told local officials and entrepreneurs to create more famous brands at an economic conference in Zhejiang province on Dec 20, 2004.






"Comrade Deng Xiaoping said that study is the basis for progress, and when facing new problems our Party should keep studying, Party members should keep studying and we Chinese should keep studying." Xi quoted what Deng had said in May 1951 in an article published on March 29, 2004 by Zhejiang Daily.
"In the early 1980s, comrade Deng Xiaoping pointed out the harm of officials' privileges. He said: 'Some leaders deem themselves lords, rather than servants of the people. They have privileges, which have made the people unsatisfied and ruined the Party's image. If this situation is not changed, our leaders will commit corrupt activities.'" Xi quoted Deng's words in an article saying officials should serve the people, published by the Zhejiang Daily on Feb 5, 2007.