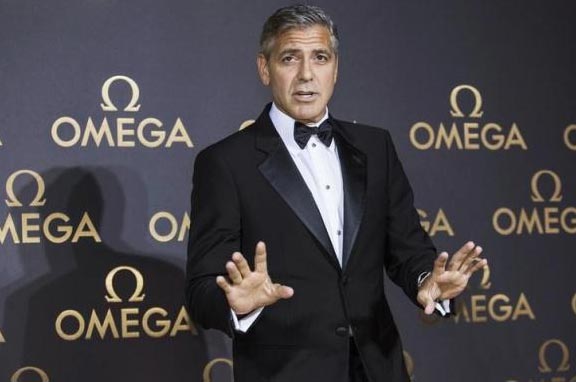 Director and actor George Clooney arrives at Omega's dinner party in Shanghai May 16, 2014.[Photo/Agencies]
Actor-filmmaker George Clooney will direct a movie about the phone hacking scandal that ensnared some of Britain's biggest media figures and politicians, studio Sony Pictures Entertainment said on Wednesday.
"Hack Attack" is based on the 2014 book of the same name by journalist Nick Davies, who details how British newspapers hacked the telephone voice mails of celebrities, members of the royal family and crime victims to gain private information.
"This has all the elements - lying, corruption, blackmail - at the highest levels of government by the biggest newspaper in London. And the fact that it's true is the best part," Clooney said in a statement. "Nick is a brave and stubborn reporter and we consider it an honor to put his book to film."
The phone hacking scandal led media mogul Rupert Murdoch to close the News of the World newspaper in 2011 and abandon a $12 billion bid for British pay TV broadcaster BSkyB following a public and political furor, and an exodus of advertisers.
The scandal resulted in arrests of top British editors and reached Prime Minister David Cameron, whose media chief Andy Coulson was forced to resign in 2011 over phone hacking when he was News of the World editor.
Production on the film is scheduled to start next year, the Sony Corp-owned film studio said.
Clooney, 53, will also produce the movie with partner Grant Heslov through their studio Smokehouse, the company behind 2012's Oscar-winning "Argo" and this year's World War II art heist caper "The Monuments Men."
Clooney, who won a best supporting actor Oscar in 2006, also earned a best director Oscar nomination that year for "Good Night, and Good Luck," about broadcast news legend Edward R. Murrow. He is the son of broadcast TV journalist Nick Clooney.