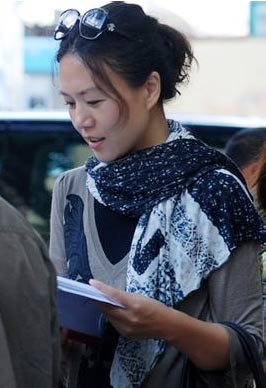 Chinese director and producer Vivian Qu. [File photo]
VENICE -- First films are a fundamental step for filmmakers to start their art career, Vivian Qu, a Chinese director and producer who is a member of the international jury of the Luigi de Laurentiis Venice Award for a Debut Film at the ongoing Venice Film Festival, told Xinhua in an interview recently.
Many young directors risk to "spoil the unique opportunity of their first films" because they are focused on how to attract mass audience by imitating famous directors or reproducing established patterns, Qu said.
This especially happens in fast-developing though very young cinema markets, including the Chinese one, the director, who has also produced important films including this year's Golden Bear-winner Bai Ri Yan Huo (Black Coal, Thin Ice), noted.
She stressed that first films do not need instead to use a lot of money or big stars. "They should rely on the director's own vision to tell the story," marking a "self-discovery process" that she noted "only a few notable filmmakers are able to maintain in their tenth work."
"Really the first film is the director's opportunity to discover his or her relationship with the world through cinema," whose language talks about humanity and emotions, and is therefore "universal by nature," Qu highlighted.
Then based on what elements should first films be evaluated in her view? "Technique is really not what I am looking at, because technique comes with experience, money and many other things," Qu said. This means that good first films are not requested to be "perfect" but just "courageous" enough to show a "singular perspective expressed with proper means" as the result of "exploration."