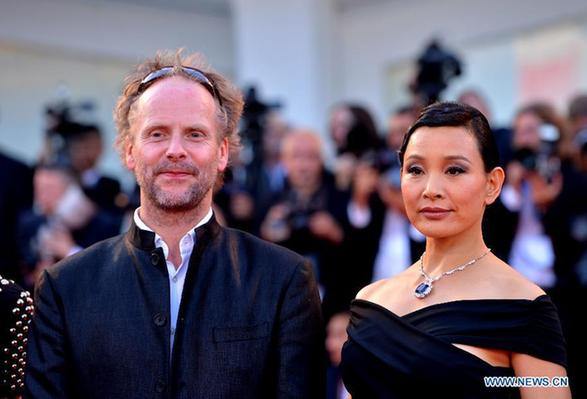 Member of Jury Joan Chen (R) poses on the red carpet during the "Birdman" premiere and the opening ceremony of the 71st Venice International Film Festival on the Lido island of Venice, Italy, Aug 27, 2014. [Photo/Xinhua]
The film which makes Chinese American actress Joan Chen feel "a bit different" when she walks out of a theater is the one that she will vote for at the ongoing Venice film festival, where she is a member of the international jury this year.
The audience of journalists and cinema experts watching the premieres at the festival are curious to know what are the elements that more fascinate the members of the jury in their difficult task to award the Golden Lion, the highest prize given to a film in Venice.
The 71st Venice film festival has a motley jury including the jury president French musician Alexandre Desplat, famous for the soundtracks of important movies, and English costume designer Sandy Powell. Jhumpa Lahiri, an American author of Indian origin, and English actor Tim Roth are also in the nine-member group.
"Being part of this jury is a great experience for me," Joan Chen told Xinhua in an interview on Monday. One of the most renowned Chinese actresses in the world, she has starred in numerous films including The Last Emperor by Italian director Bernardo Bertolucci in 1987 and Se, Jie (Lust, Caution) by Ang Lee, winner of the Golden Lion in 2007.
Her true passion for cinema, Chen said, was born when she acted in The Last Emperor. That experience, she elaborated, shaped into her the idea of what cinema must be, that is to say the "creation of reality."
A good film, she noted, cannot and should not be totally identical to the real world, but all of its elements from costumes to music and colors must have the effect of "taking you into it and convincing you that it is telling something true."
For this reason, Chen stressed, although the stories of films are taken from the real world and can be told many times again, their "creation" in films involves a series of unique ideas.