Mixed responses follow Ko's public apology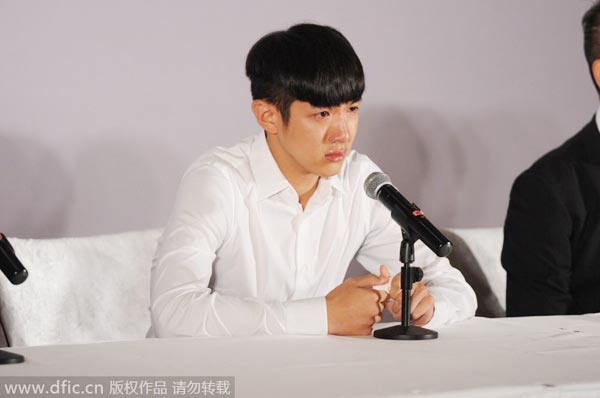 Taiwan-based Chinese actor Kai Ko reacts during a press conference in Beijing on August 29, 2014. [Photo/IC]
Taiwan-based Chinese actor Kai Ko, or Ko Chen-tung, 23, apologized publically for the first time for taking drugs at a press conference in Beijing this afternoon.
Ko was released this morning after 14 days of administrative detention after he was detained for possession and use of drugs in Beijing on August 18.
"I have no reason, no cause and no excuses for what I did", said Ko at the press conference.
"This incidence is like an ugly scar that will remain on my body. When I see it, I will remember the pain of making a terrible mistake."
Several times, Ko paused in tears and it seemed as if he couldn't speak. Angie Chai, top representative for Ko's management company, and Ko's parents placed their hands on Ko's shoulders in encouragement.
According to Ko, the words that came to mind the most during his time in jail was "self-reflection."
"I cannot go back in time to undo what I did, but there is willingness to correct a mistake. I want to correct my mistake, because I don't want to see the sad faces of those who love me and those who I love. I am really sorry to them."
"I have always believed that love can win against all sources of evil. As a public figure, he acted in the worst way possible and sent the worst messages out. As parents, our hearts ache and we are deeply remorseful," said Ko's father Ko Yaozong.