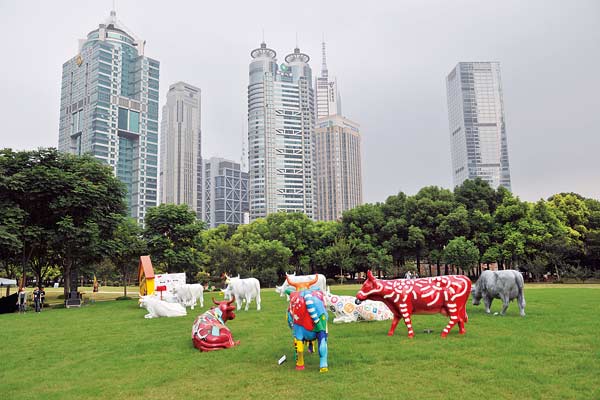 Kooky cows: Shanghai is the latest city to host the roving art event, the Cow Parade. Photos provided to Shanghai Star
A herd of colorful cows will soon be making their way to Shanghai, decorated by renowned artists, designers and celebrities. Zhang Kun takes a gaze at the grazers.
Fifteen colorful cows grazing on the grass field surrounded by the skyscrapers of Lujiazui mark the beginning of the first Cow Parade public art event in Shanghai.
They are not real animals but life-size sculptures made of fiberglass. Artists, designers and celebrities were invited to paint the white cows. When complete, the works will be displayed in public spaces throughout the city. In Pudong, they will be strolling along the Huangpu River. The cows will take over Century Square on the pedestrian street of Nanjing Road East.
Lei Wen, a senior marketing manager for Shanghai Media Group (SMG) Live, said more cows will join the parade as the campaign moves on and more people get involved. An event "for art, for fun, and for charity", Cow Parade China invites people to submit their creative ideas on their website, cowparade.com.cn
Hopefully the herd will swell to 200 cows by the end of this year, says Lei. The cows will later go on auction, to raise funds for children's art education.
Shanghai is the 80th city where the Cow Parade has taken place. The event started in Zurich, Switzerland in 1998 and has been held in New York, London, Tokyo, Milan, Hong Kong among others. Shanghai is the first city on the Chinese mainland to host a Cow Parade.
Cows on parade have a few variations in shape, but the three most popular shapes, standing, lying and grazing, were created by Pascal Knapp, a sculptor from Switzerland. He created the cows on commission from the Cow Parade Holdings Corporation based in West Hartford, Connecticut of the United States, which owns the trademark.