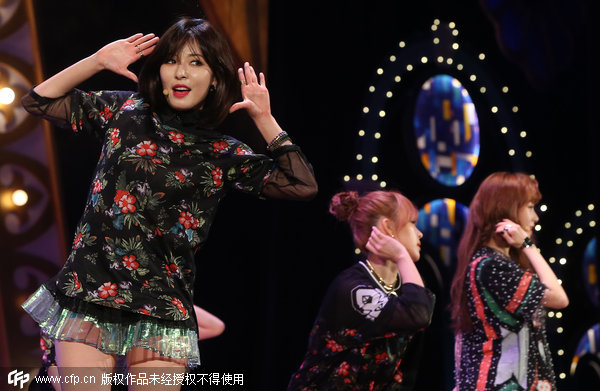 Girls' band 4minute perform onstage during their mini album '4MINUTE WORLD' showcase at Lotte World in Seoul, South Korea in this March 17, 2014 file photo. [Photo/CFP]
SEOUL, South Korea - Fourteen people watching an outdoor pop concert in South Korea fell 20 meters to their deaths Friday when a ventilation grate they were standing on collapsed, officials said.
Photos of the scene in Seongnam, just south of Seoul, showed a deep concrete shaft under the broken ventilation grate.
The 14 deaths were confirmed by hospital officials who spoke on condition of anonymity because of office rules.
Fire officials said two more people were unresponsive and feared dead and 11 others were seriously injured. The officials spoke on condition of anonymity, citing department rules.
The officials said the victims were standing on the grate while watching an outdoor performance by girls' band 4Minute, which is popular across Asia.
About 700 people had gathered to watch the concert, which was part of a local festival, the Yonhap news agency reported.
The YTN television network, citing unidentified witnesses, said many of the spectators were female students. The victims weren't immediately identified.