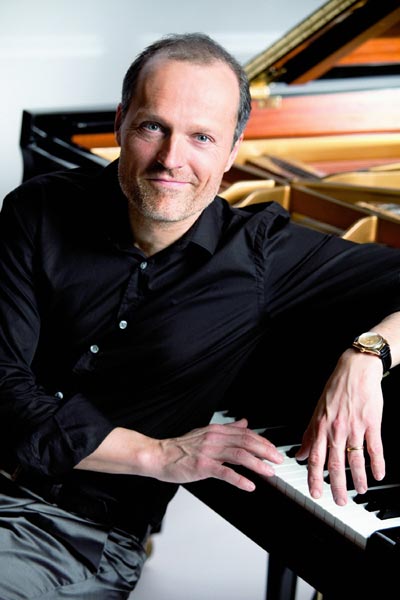 German pianist Joja Wendt. Photo provided to China Daily
German pianist Joja Wendt had received strict musical training since his mother, a vocal teacher, first taught him classical piano notes when he was 4. However, to audiences around the world, he is best-known for his ability to improvise the scores of the classical piano repertoires, with a great sense of humor.
Talking with the 50-year-old pianist before his upcoming China tour, which kicks off in Shenzhen on Sept 28, it becomes immediately clear that Wendt, though he chose his instrument as a child, has yet to settle on a musical genre.
"My program selection is not based on any style but uniqueness. Each piece has a story or a clue," he says.
When he recalls his first tour in China last year, he says that it inspired him to further experiment with music.
He has met musicians from different parts of the world occasionally that he couldn't communicate with because he doesn't speak their language - but through music, they became friends. That happened to him with Chinese folk musician Feng Mantian.
"Neither of us speaks each other's language," he says of the player of the ruan, a traditional Chinese plucked string instrument.
"But when we played together, it was magic. We jammed the whole night in a little bar, which is located in a Beijing hutong," he recalls.
For the veteran Feng, jamming with the German musician is also rewarding since both men are keen on crossover experimenting with their instruments.
"Profound technique is necessary but without the musician's own interpretation, the instrument player is merely a technician," says Feng, who looks forward to being part of Wendt's China tour again.
When Wendt performed at Beijing TV's 2013 Spring Festival Gala, he invited famous Chinese table tennis players Liu Wei and Wang Tao to play ping-pong on his piano while he was playing.
"I started to play ping-pong at the same age as I started to play the piano. Both are the most important things in my life. China is known for ping-pong champions in the world so it's perfect to combine the two," says the pianist, who has been playing ping-pong at his home in Hamburg to keep body and mind in tune.