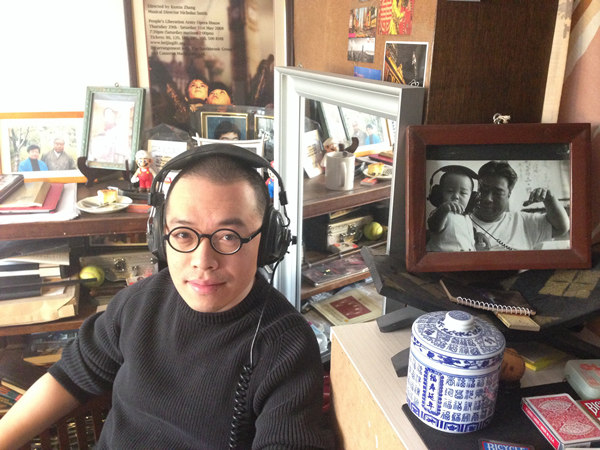 Zhang Kemin stays in the Beijing apartment of his grandparents, who were musicians. Photo provided to China Daily.
Zhang Kemin tried his hardest to resist becoming a professional musician like his grandfather, the late Chinese conductor Li Delun (1917-2001).
"I was rebellious. Almost everyone in my family is a musician and I wanted to be different," says Zhang, 36, who has learned piano, violin and viola since childhood. He took on a variety of jobs to distract him from music, from working in venture capital firms to comedy clubs.
But he has found himself in music nonetheless, and recently he played piano to accompany US soprano Kerry Holahan, kicking off The Spirit of America tour, organized by American Cultural Center Tours' Ping Pong Productions in association with Li Delun Music Foundation.
More than 200 people, Chinese and expatriates, packed the library of the Beijing American Center. They performed songs by Broadway legend Cole Porter, including Night and Day and Anything Goes, and told stories about the composer's life.
"We became friends a long time ago. He is very nice and funny. When I made mistakes during a performance, he will say it's his fault," says Holahan, who moved to Beijing as an exchange student 10 years ago.
Zhang and Holahan will tour universities around China, spreading their love of Broadway music to Chinese audiences.
"My aunt told me that the project I am doing is just like what my grandfather used to do," Zhang says. "He used go around with a cassette player and a stack of tapes, and gave lectures about classical music everywhere, from universities to factories. He enjoyed classical music so much that he loved sharing his knowledge with people in the hope that they can learn to appreciate it, too."
Zhang and his parents moved to Toronto, Canada in 1990. When he returned to Beijing, he stayed with his grandparents. It is an old apartment in the capital's downtown area and it is where he was born and raised.
Located near the China National Symphony Orchestra, the apartment block is home to many of China's great musicians, including Li and his violinist wife Li Jue (1922-2013).
"That's me, around 2 years old, sitting in my grandfather's arms," says Zhang, pointing to a black-and-white photo, in which he is wearing a pair of big headphones and waving his tiny arms like a conductor.