Everyone who visits Lhasa for the first time will get to the Potala Palace. However, a magnificent building for a live-action performance will give travelers another choice.
Alongside the south bank of the Lhasa River, the building is set up for the performance of Princess Wen Cheng, a show focusing on the Tang (618-907) princess who married King Songtsan Gampo and promoted economic, social and cultural exchanges between the Han people and the Tibetan ethnic group.
Princess Wen Cheng, as the envoy of the Han culture, is respected and supported by the Tibetans.
The five-story Tibetan-style building broke ground in July 2012, and covers an area of more than 20,000 square meters, which is equipped as a comprehensive open-air theater with a high-tech stage artistic design.
The stands can hold about 3,000 people, and the lights can change background images to show mountains, palaces and temples.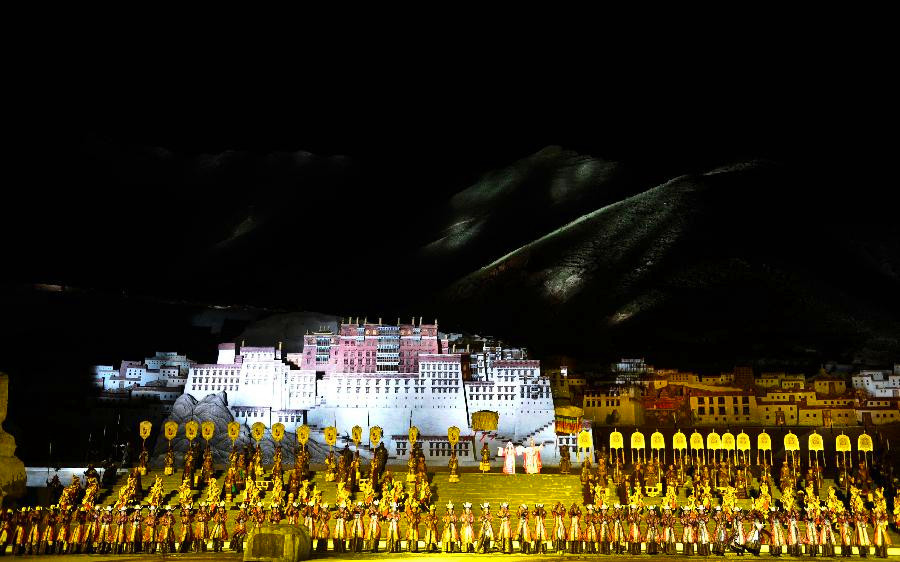 A scene from Princess Wen Cheng in Lhasa. [Photo by Mi Guanghong/Provided to chinadaily.com.cn]
Mi Guanghong contributed to the story.