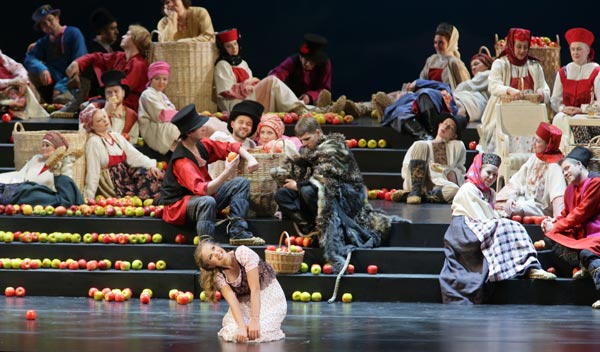 Eugene Onegin, as its stage director Alexei Stepanyuk describes, is his contemporary take on one of the Russian classics. Photo provided to China Daily
Chinese fans have had their fill of the Italians-now the Russians are coming, bringing one of the country's classics to the Beijing stage. Chen Jie reports.
Chinese opera fans have watched enough Verdi and Puccini in recent years, and the producers of the National Center for the Performing Arts believe the time is right for Russian operas to make a comeback. Eugene Onegin, a co-production between Mariinsky Theater and the NCPA, will mark the opening of a three-month opera festival on March 14. Valery Gergiev will conduct the NCPA orchestra and choir. The Russian cast will perform on the opening night, the Chinese cast will perform on March 17 and a mixed cast will perform on March 15 and 16. "NCPA has tried to present a variety of operas since its opening in 2007, from the popular Carmen and Turandot to Wagner's The Flying Dutchman. Russian opera is not familiar to local audiences. People know Tchaikovsky's ballet but not his opera," NCPA's production director Wei Lanfen says.
She says the production is a challenge not only for the audience but also the performers because over the past 30 years Chinese conservatories seldom taught Russian operas.
NCPA decided to work with Mariinsky, the most prestigious theater in Russia. They began their collaboration in February 2011.
Mariinsky highly values the collaboration because it's their first co-production with an Asian company in its 230-year history.
Maestro Gergiev says Eugene Onegin is a "logical continuation of collaboration with NCPA". Mariinsky's opera and ballet company performed at NCPA's opening in December 2007. The company has also toured independently in China.
"I can safely say that over the years we have presented a broad range of Russian music and our great musical traditions (in China). Every time we meet the appreciative Beijing public, it is a source of sheer pleasure for me and all our performers," Gergiev says.
"I respect China's long history, fantastic economy and progress. Classical music has been booming in the past 10 years.
"I am thrilled that it is the Mariinsky Theater and our wonderful team that will introduce Chinese audiences to this well-loved Russian opera, which occupies an exceptional place in the history of Russian music. It was here that, for the first time in Russian opera, Tchaikovsky tackled a plot that essentially dealt with his contemporaries, writing about emotions that everybody knows and that touch everyone."