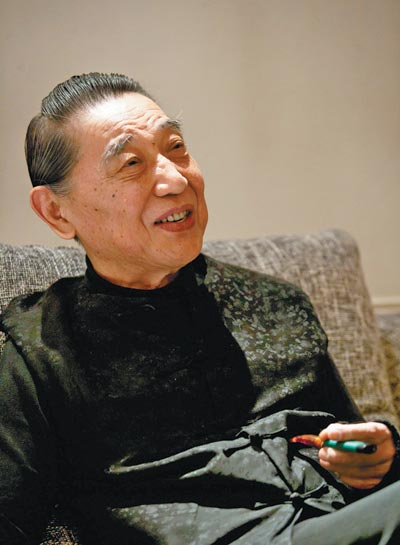 "Music is always difficult to grasp, as it is high up in the sky, and we spend our whole life climbing up toward it." Fu Cong - Pianist. Photo provided to China Daily
Cigar in mouth, dressed in traditional Chinese clothing, he talks in an intelligent manner. When he plays the piano, his controlled, soft touch delivers poetic thoughts and feeling thought the keys. This is the impression Fu Cong (also known as Fou Ts'ong) often gives to music lovers.
The legendary 79-year-old "poet of the piano", son of the late great translator Fu Lei, will bring Haydn, Mozart, Schubert and Beethoven back at the National Center for the Performing Arts in Beijing on Dec 1.
Fu says he has felt closest to Schubert's music in the past decade, as he feels the composer's transparency and cosmic sense share a spirit with those in traditional Chinese culture.
Speaking of Beethoven's later composition Bagatelles, Fu says there is sharp contrast within the six-piece work, which feels like "from heaven to Earth".
One of Fu's hands is suffering from tenosynovitis due to his exercises and performances over the decades, but he still practices every day at least for eight hours on the piano.
A romantic at heart, Fu says with modesty that he feels "ashamed" that he only started to like Haydn's music when he was 70 years old.
Fu's career kicked off half a century ago, when Fu amazed his professors at the Warsaw Conservatory with his intuitive grasp of the mazurka rhythm. He was the first Chinese pianist to win the special Mazurka Prize at the 1955 International Chopin Piano Competition. The late laureate of Nobel Prize in Literature Hermann Hesse once proclaimed Fu to be "the only true performer of Chopin's works".
Fu was a member of the Queen Elisabeth Music Competition's jury in 1991, 1999 and 2007. Three years ago, Fu played Chopin to commemorate the composer's 200th birthday at the NCPA. But Chopin is not in the program of the upcoming recital.