Bach is no stranger to Wang Jian. In 2009, the world-renowned cellist first played the Solo Cello Suites by J.S. Bach in Beijing.
He will be back at the Beijing Concert Hall on Nov 23 to play Bach. Wang says his interpretation of this "cellistic bible" changes all the time. Instead of telling "what happened to me personally", he's telling a story that had happened to someone else, a long time ago - "in a way there is more distance between me and the story I'm telling".
"At the beginning my interpretation was perhaps more romantic, now it's perhaps a little more philosophical," Wang explains.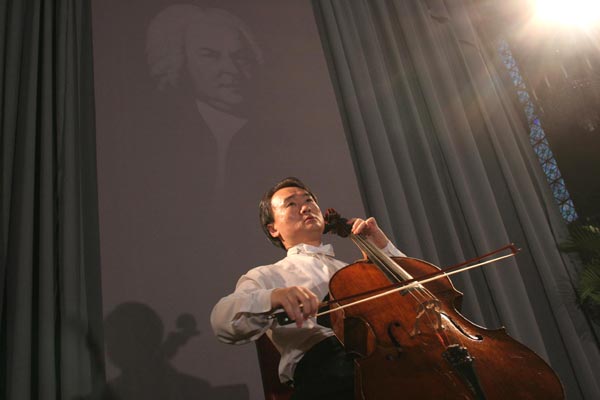 Wang Jian says his new interpretation of Bach's works is more philosophical. Jiang Dong / China Daily
In his recording of Bach Solo Cello Suites with Deutsche Grammophon in 2005, Wang drew the listeners into his "highly personal interpretation"(as described by DG) with intense emotions and impressive bow control.
He played in the United States and throughout Europe to coincide with the release of his Bach Cello Suites.
For him, music "reflects the kindest, most noble and sensitive parts of our souls". He feels privileged to be a musician as "we can observe all kinds of emotions around us everyday, mostly beautiful and sometimes quite ugly - musicians can turn these emotions into something that can be felt, accepted, understood and forgiven by all".
One can still see the resemblance to the young boy, featured in the celebrated documentary film From Mao to Mozart: Isaac Stern in China in 1979, on Wang's face today. With a Portuguese passport, Wang currently lives in Finland, playing between 50 and 70 concerts a year. Recently, he has been playing in China.
"I am really glad there is a 'home market' developing for Chinese musicians," Wang says. "I have worked a lot with Maestro Yu Long. He has given me a lot of performance opportunities here in China. We have a long tour coming up, playing together with the New York Philharmonic, Montreal Symphony, Toronto Symphony, Vancouver Symphony and NDR of Hamburg."
He has also worked with most of the other Chinese musicians actively performing today, such as UK-based guitarist Yang Xuefei.
As one of the few Chinese musicians who established themselves internationally in the 1990s, Wang was the first Chinese musician to sign with DG records in 1995, and released nearly 10 albums in the following decade. He also formed a reputable trio with Maria Joao Pires and Augustin Dumay, playing Mozart and Brahms. He partnered Gil Shaham and the Berliner Philharmoniker under Claudio Abbado, to play Brahms' Double Concerto.
Wang made his first concerto recording, the Haydn Cello Concertos, on DG as well. His Baroque Album, featuring works by Boccherini, Francois Couperin, Frescobaldi and Monn, together with his Bach Cello Suites, have gained much respect from music critics around Europe, which made him known as a musician with integrity, depth and style.
Wang's latest album, Elgar's Cello Concerto with Sydney Symphony Orchestra conducted by Vladimir Ashkenazy, was released two years ago. Since then, he has not released any new recordings.
"It's still possible to make recordings, but one has to look for sponsors and be more active in planning and organizing the project," says Wang, adding in jest that he's "too lazy" to make such plans.
But he also admits that the rapidly declining CD sales make it hard to justify the effort and time spent on making a CD. "I don't know what the solution is, it's beyond my capabilities to worry about this, so I don't worry about it."
As a devoted concert man, Wang says that the biggest pleasure for him now is "to play a little better now than before".
For China Daily