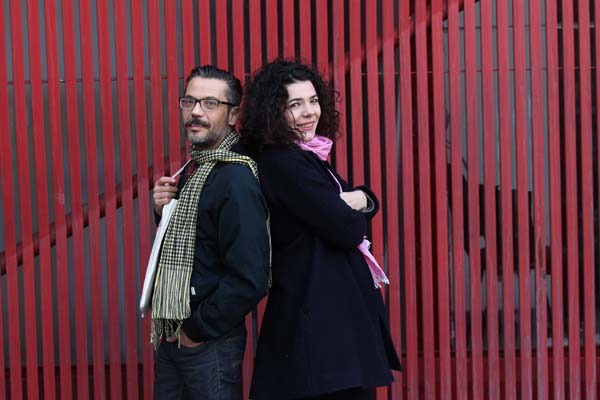 Leo de Boisgisson (right) and Pierre A. Blanc, founders of Dongdong Music Festival and Convention. Zou Hong / China Daily
Almost a decade ago, two French art-lovers discovered a new world of music independent of each other.
Leo de Boisgisson, a trained Sinologist in Paris and Yunnan University, found herself in Beijing when the city's punk music was in its heyday. She bought pirated CDs, especially in the Wudaokou area, when she moved there in 1998 to study at Renmin University. Soon, together with a bunch of friends, she founded 86/33 Link, a nonprofit association, which refers to the country codes of China and France.
Around the same time, Pierre A. Blanc, a veteran music producer and label manager, produced Chinese "godfather" of rock 'n' roll Cui Jian's first concert in Paris in 2001.
"It was crazy," says Blanc, who had become the music director of Parisian venue, Le Divan Du Monde, where he programmed thousands of bands.
Tickets were sold out in 30 minutes, he recalls, and 1,000 people were waiting outside that night hoping to get in. The show lasted three hours and people were ecstatic; even the French minister of culture attended.
That was Blanc's first taste of China. "It surely gave me confidence to promote Chinese bands, and at that time no one was really doing that," Blanc says.
A few days after the show, Blanc and De Boisgisson met for the first time in Paris and started to collaborate.
In 2004, they presented China Lab tour in Europe, featuring groundbreaking Chinese indie musicians like Wang Lei and rock band Tongue. A year later, they brought the TransMusicales Festival to Chaoyang Park in Beijing. Around a year ago, the two founded Kaiguan Culture, an extension of 86/33 Link, which promotes their ongoing projects between China and Europe with new people and new talents.
After more than 10 years, they realized there was no place for all the players to meet, learn and network. So they created the Dongdong Music Festival and Convention, which is held from Nov 7 to 10 in Beijing and includes a series of performances, conferences, workshops and talks.
Related:
Video: Canadian National Orchestra tours in BJ 
Chinese and Belgian dancers to launch new Genesis world tour